90 Day Fiancé fans think Tiffany Franco is insecure, after commenting on some of her words and actions. They're sharing plenty of opinions online.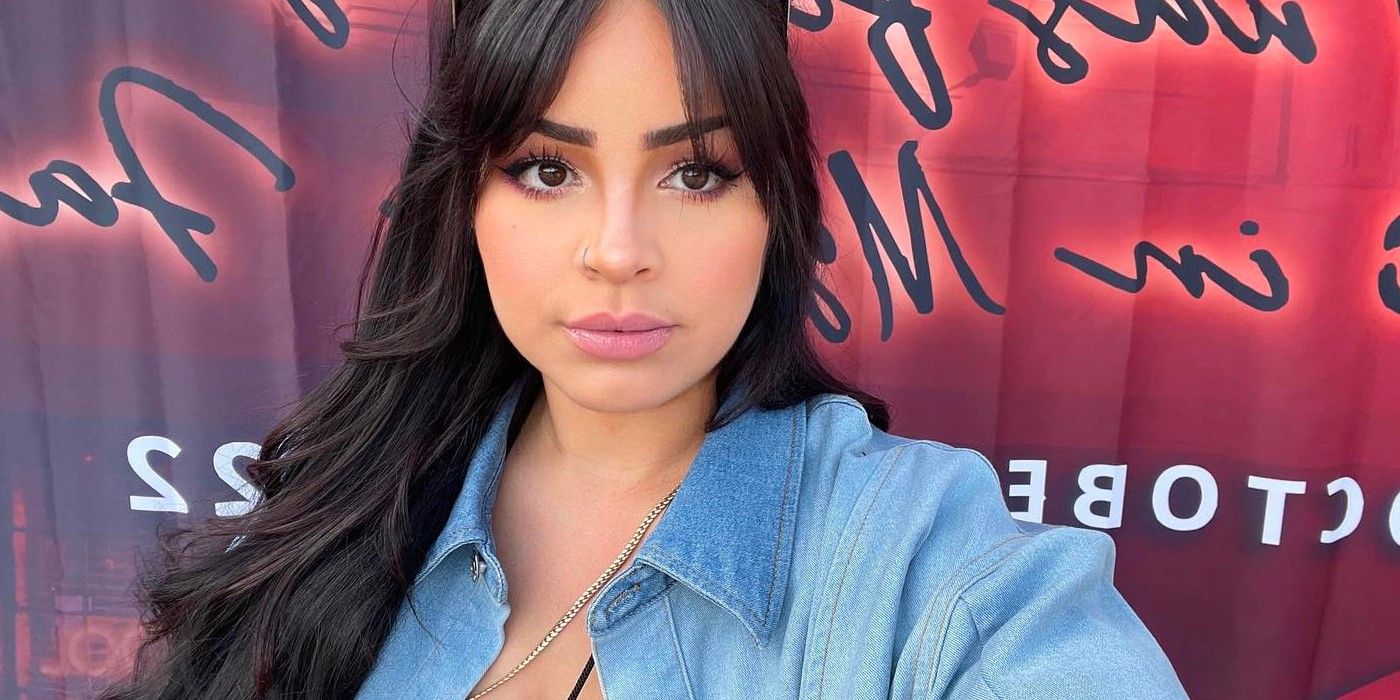 Several fans of the TLC reality series 90 Day Fiancé think that Tiffany Franco is insecure, and they've explained why. In a recent Instagram post, the former reality star documented her makeup routine while video-chatting with a friend. Before the TV personality began her routine, at the beginning of the video, Tiffany's daughter Carley made a brief cameo. The mother of two Tiffany often posts selfies, family photos, and compilation videos on her Instagram. By the end of the video, the celeb's new look was complete. Fans banded together in the comments, complimenting the 31-year-old's appearance. From her bedazzled jacket to her hairstyle, Tiffany's followers were certainly not short of praise for her, but she does have detractors.
Although the 90 Day Fiancé star struggled on the show, it helped her to attract a following, so she could become a successful influencer. She's revealed her creative side by sharing makeup tutorials, unique video content, and self-love posts. Tiffany has also launched a makeup line called AddyRose Cosmetics. After the announcement, fans were eager to try Tiffany's products. Since 90 Day Fiancé, the influencer has been able to promote online full-time, and she's a business owner. Her rocky time on the hit reality series not only resulted in Tiffany becoming a mother, but led to a successful new career. However, not all fans believe the young mother is as confident as she appears to be.
Related: Why 90 Day Fiancé Fans Can't Stand Tiffany Franco
Tiffany Franco's Followers Are Sounding Off
After documenting her makeup routine, 90 Day Fiancé fans believe Tiffany is struggling. In a now-deleted post, Tiffany's followers voiced their thoughts in the comments, suggesting that she is hiding her true emotions on camera. "She makes me so sad," IG user @fur.katt posted. "She needs to focus on herself instead of chasing validation through men. I feel bad for her kids. She really shouldn't have anymore." That person wasn't the only commenter who thinks that the reality star lacks confidence. @k__pics_ shared their belief that Tiffany doesn't love herself as much as she appears to, and is holding onto the past: "You have to love yourself and trust before you can move forward."
Tiffany Franco Enjoys Talking About Her Weight Loss Journey
Since the show, and her split from ex-husband Ronald Smith, the 90 Day Fiancé star has lost 80 lbs. This change made her feel happier, and she enjoys talking about her weight loss journey. Although she wasn't as popular when first appearing on the show, her outgoing and bubbly personality was enough to keep fans fascinated. They love to follow Tiffany's every move. After making the change, her newly revealed confidence led to her growing popularity. Once fans became curious about her body makeover, Tiffany's social media following increased exponentially. Tiffany learned to love herself after her break-up, and slimming down helped her build her make-up brand. However, fans are still struggling to see the confidence that Tiffany has talked about having.
Although some of Tiffany's fans see her as insecure, the 90 Day Fiancé influencer is doing pretty well for herself. She even showcased her new body on 90 Day Fiancé: The Single Life. Her makeup line is also successful. She is a proud mother of two beautiful children. Following her 80-pound weight loss, she continues to practice self-love. While some fans of the show are pointing out Tiffany's insecurities, others are praising her success. @wengi09 posted on the post referenced above: "You are very beautiful, every time you use to come on the show, I was like wow she's gorgeous." Whether the 90 Day Fiancé star is masking insecurities or not, it hasn't stopped her career from thriving.
More: All The Times Tiffany Franco Got Dragged By The Show's Fans
Source: Tiffany Franco/Instagram

#Day #Fiancé #Fans #Tiffany #Franco #Insecure