Fallout 76's cranberries are a rare fruit used in some complex recipes. To harvest them, players should explore locations in the Cranberry Bog region.
Eating a bunch of Cranberries is an excellent way for Fallout 76 players to quickly regenerate their health and get extra fruit in their diets. Aside from being a useful consumable item, Fallout 76's cranberries are crucial ingredients in complex crafting recipes. This includes advanced cooking recipes, allowing players to cook food with various useful temporary boosts to help them as they journey across Appalachia. To pick some berries, however, players will need to explore the dangerous wilderness of the Cranberry Bog region in search of cranberry plants.
Like other consumable items, including Fallout 76's Dog Food, cranberries can reliably be found in several locations. Of course, some locations will have more than others, and players should prioritize these if their weapons and gear are solid enough to keep them safe.
However, it's also worth noting that players can find cranberries and cranberry plants elsewhere, and given the dangers posed by the hostile wildlife in the Cranberry Bog, it's best to plan longer expeditions. By visiting several locations on the same trip, players can harvest a bumper crop of cranberries and avoid making too many repeat journeys into this dangerous part of the map.
Related: Where to Find Honey Beasts in Fallout 76
Locations To Find Cranberries In Fallout 76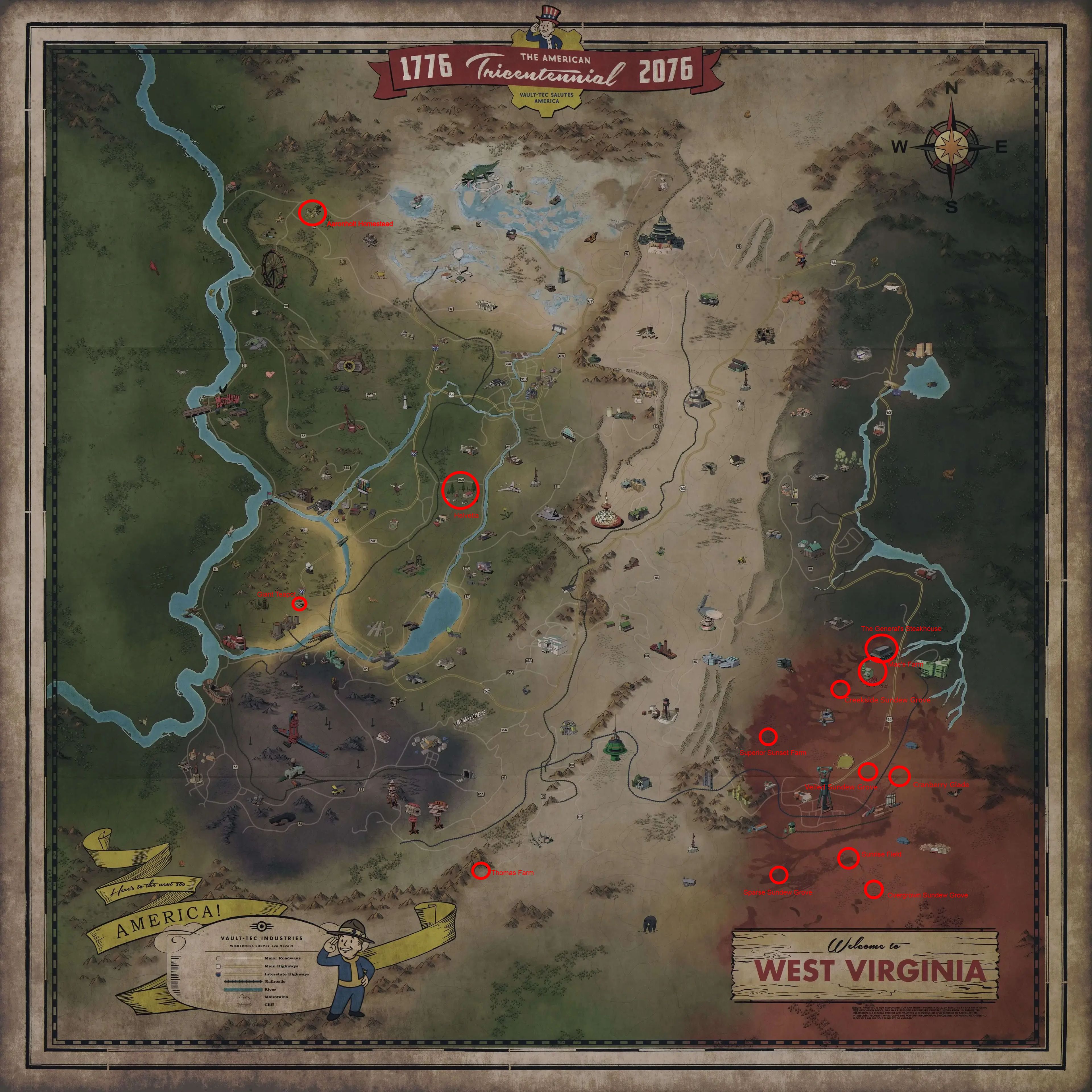 The Cranberry Bog region is located in the southeast region of the map, a good distance away from Appalachia's Middle Mountain Cabins. According to the Fallout Wiki and the Youtube channel PoxiiPro, cranberry plants can be found in the following locations:
Aaronholt Homestead
Cranberry Glade
Creekside Sundew Grove
Giant Teapot
Helvetia
Mac's Farm
Overgrown Sundew Grove
Sparse Sundew Grove
Sunrise Field
Superior Sunset Farm
Thomas Farm
Veiled Sundew Grove
The General's Steakhouse
All of these locations are marked on the map above. It's worth noting that most of the locations where cranberry plants can be found are located in the Cranberry Bog region. As such, players searching for cranberries ought to prioritize exploring this region and stock up with gear and ammo. However, a few plants can also be found outside this region at the Aaronholt Homestead, Giant Teapot, Helvetia, and Thomas Farm specifically. Cranberries don't take up much space, but players might like to grab one of Fallout 76's handy backpacks to help them carry any extra loot they find.
According to content creator PoxiiPro, players who want to grab lots of cranberries should head to the Creekside Sundew Grove and Sunrise Field, where they can find many cranberry plants. Having the Green Thumb and Good with Salt perks can also prove useful. Green Thumb allows players to harvest double when picking flora, while Good with Salt reduces the rate at which food items spoil. This lets players harvest more of Fallout 76's cranberries and return to their camps with backpacks full of fruit.
More: How to Get Fiberglass in Fallout 76
Source: Fallout Wiki, YouTube/PoxiiPro
Fallout 76

Original Release Date:

2018-11-14

Genre:

Action, RPG

ESRB:

M
#Find #Cranberries #Fallout