Brendan Fraser stars in the psychological drama The Whale alongside a talented supporting The Whale cast. Based on Samuel D. Hunter's 2012 play of the same name, The Whale is directed by Darren Aronofsky, who spent more than a decade trying to make the adaptation happen. The resulting movie received critical acclaim following its world debut at the Venice International Film Festival in September 2022 and has been credited with helping to return Fraser to prominence as a Hollywood star. In addition, The Whale has been nominated for three Academy Awards.
Set mostly on a couch in a single apartment in the college town of Moscow, Idaho, The Whale centers around the life of a morbidly obese English professor (Fraser) who seeks to reconnect with his estranged daughter (played by Fear Street and Stranger Things' Sadie Sink). Here is a guide to the entire main and supporting The Whale cast, who they play, and what each of the actors has done before.
Related: The Whale Is Just The Beginning Of Brendan Fraser's Comeback
Brendan Fraser as Charlie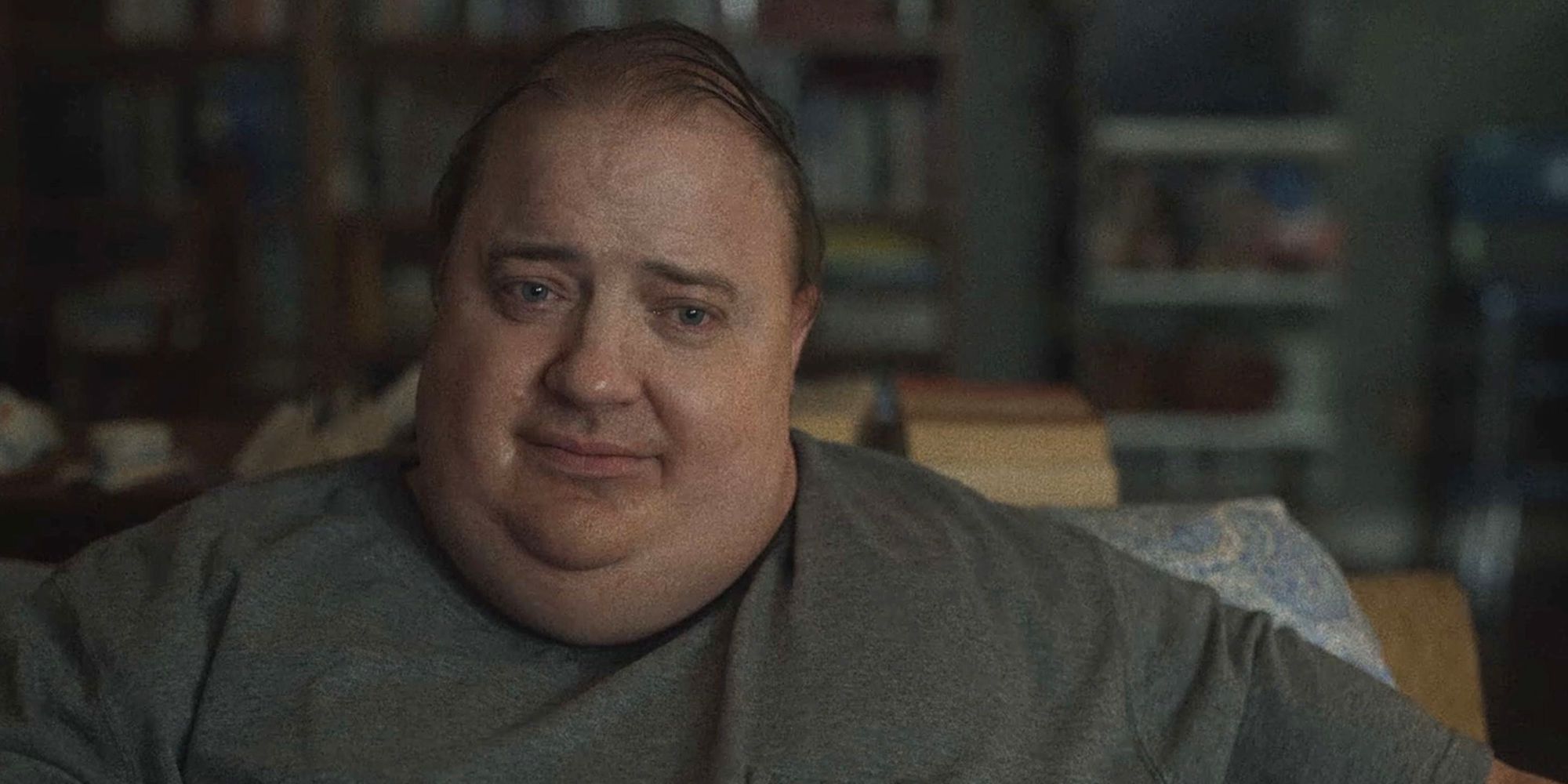 Brendan Fraser plays the lead character in The Whale cast, an English professor named Charlie. He weighs over 600 pounds and is depressed about the misfortunes in his life. He is also hyper-aware that his excessive eating habits will be the cause of his demise, and seems on board with that. The story progresses with Charlie's attempt to reform his relationship with Ellie, his daughter with his ex-wife, Mary.
Considered Brendan Fraser's great return to movie stardom, The Whale features one of his best performances yet. The actor rose to fame in the 1990s and starred in an array of blockbusters, comedies, and action movies before he disappeared from the limelight after his own divorce. Fraser is mostly known for such roles as The Mummy franchise's Rick O'Connell, the titular ape man of George of the Jungle, and the titular Neanderthal of Encino Man.
Sadie Sink as Ellie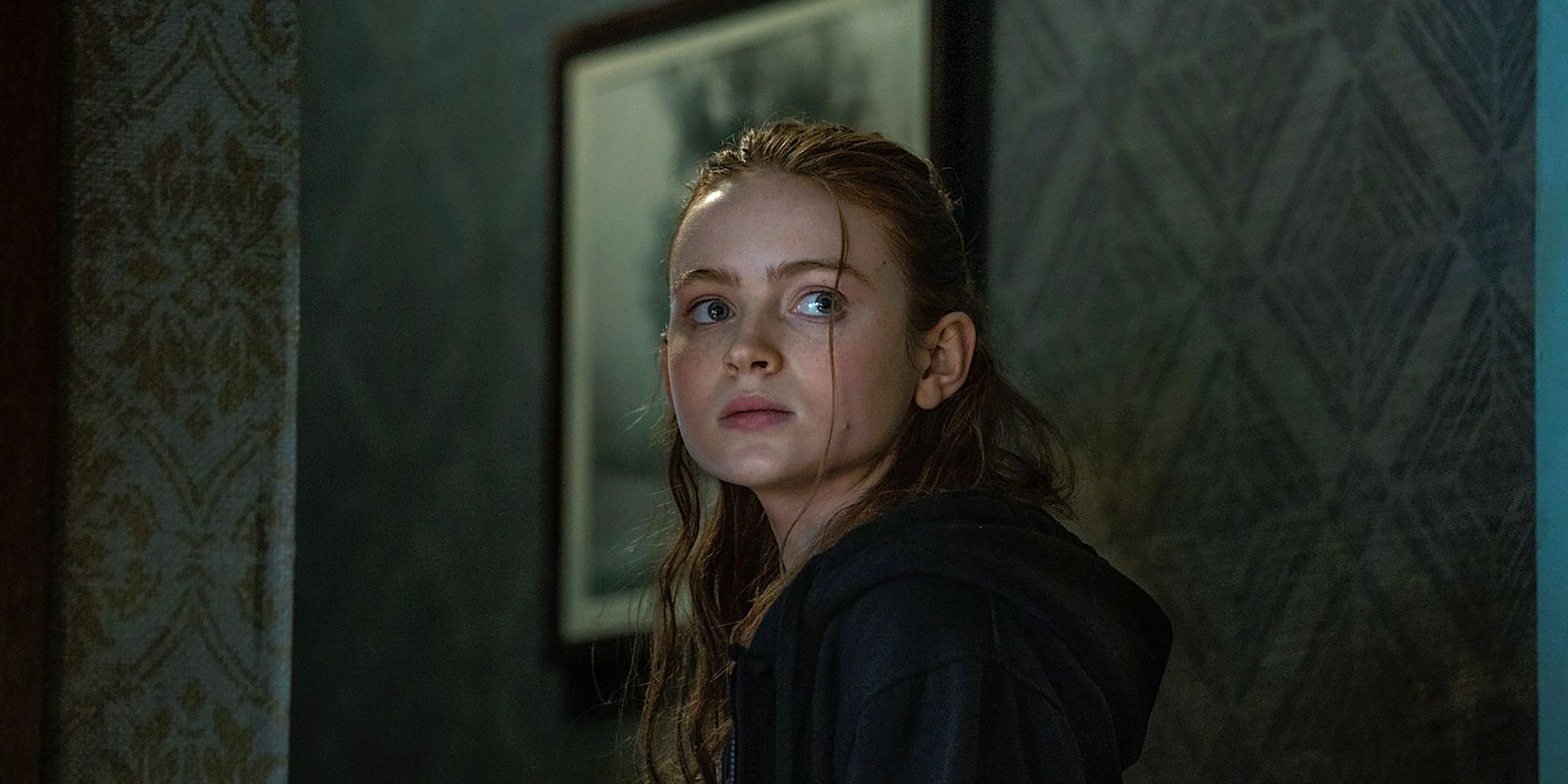 In The Whale cast, Sadie Sink plays Ellie, the daughter of the characters Charlie and Mary. Being under the full custody of her mother, Ellie hasn't seen or talked to her father in eight years until she shows up one day at his apartment. Throughout her visits to Charlie, he discovers that his daughter has grown into a wildly brusque and troubled 17-year-old teenager in his absence. As a rising young actress, Sink has been credited in the Fear Street franchise as Ziggy Berman, in Stranger Things as Max Mayfield, in Dear Zoe as Tess DeNunzio, and in Taylor Swift's All Too Well: The Short Film as the unnamed "Her."
Hong Chau as Liz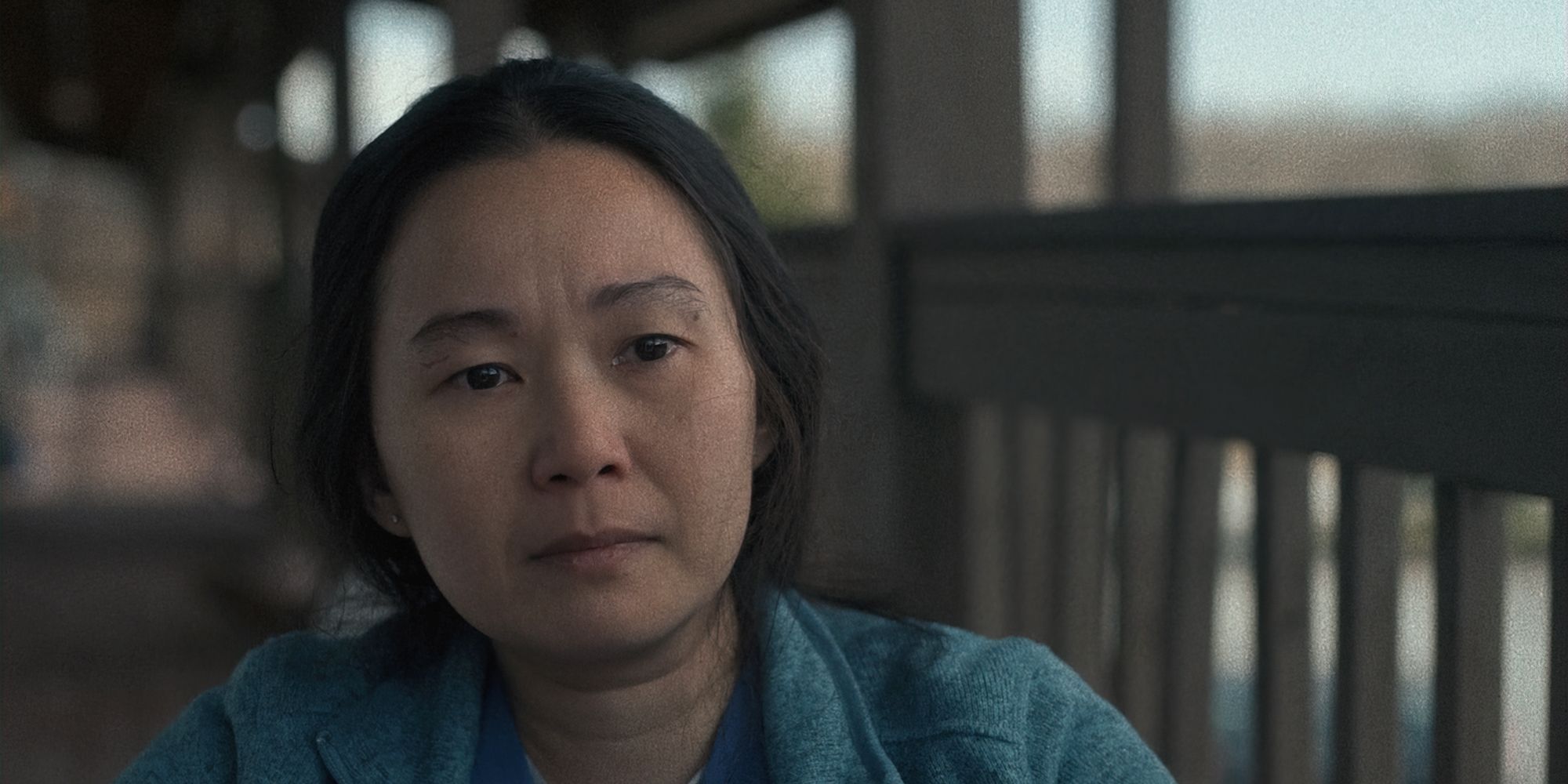 Hong Chau plays Liz in The Whale cast, a nurse and close friend of Charlie. Their relationship dates back to Charlie's indiscretion that led to his divorce from Mary. Due to their connection, Liz is a welcome companion for Charlie, as well as his medical caregiver. Chau previously appeared in the sitcom How I Met Your Mother as one of Ted Mosby's architecture students, Cook Pu. She later received her breakout role in Downsizing as Ngoc Lan Tran and played major characters in the psychological thriller Homecoming and the superhero series Watchmen.
Related: Watchmen: How The HBO Show Condemns Violence
The Whale Supporting Cast & Characters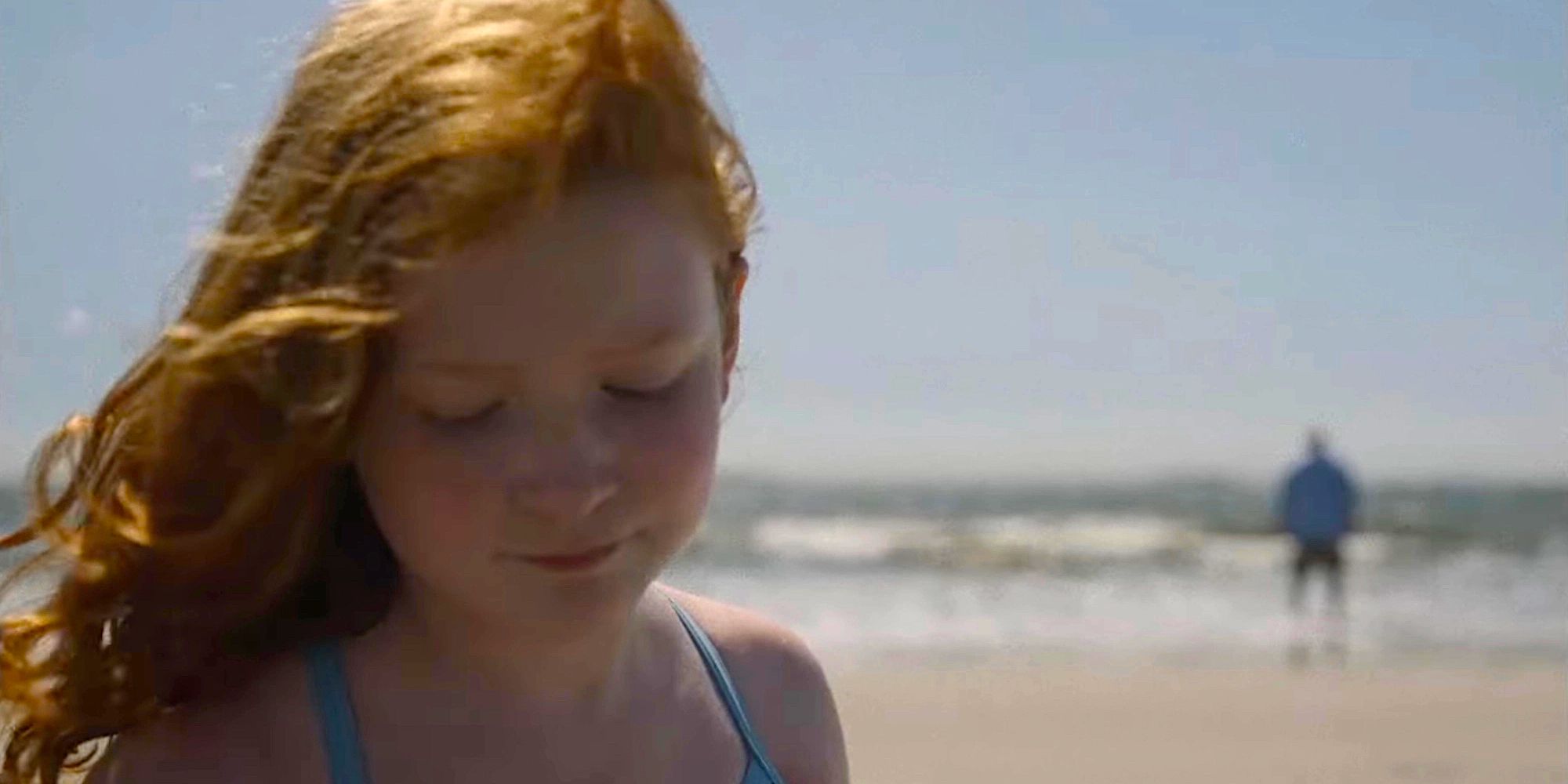 Ty Simpkins as Thomas – In The Whale cast, Ty Simpkins plays the character Thomas, a church missionary who frequently visits Charlie in the hopes of spiritually healing him with God's word. Simpkins is best known as Dalton Lambert in James Wan's Insidious franchise. He also co-starred as Gray Mitchell in Jurassic World and plays Harley Keener in the MCU, specifically seen in Iron Man 3 and the end of Avengers: Endgame.
Samantha Morton as Mary – Two-time Oscar-nominated actress Samantha Morton plays Charlie's ex-wife in The Whale cast, Mary, whom he cheated on with a man. Morton is best known for her work as Mary, Queen of Scots, in Elizabeth: The Golden Age, Mary Lou Barebone in Fantastic Beasts and Where to Find Them, and pre-cog Agatha in Minority Report.
Jacey Sink as Young Ellie – Jacey Sink plays the younger version of Ellie in The Whale cast. Jacey is Sadie Sink's younger sister and has also played the younger version of Sadie Sink's Stranger Things character, Max Mayfield.
Sathya Sridharan as Dan – Sathya Sridharan plays Charlie's pizza delivery guy, Dan, in The Whale cast. Charlie provides Dan with specific instructions every time he delivers pizza — leave it on the porch; the money is in the mailbox. Sridharan can also be seen in Bikini Moon, an indie film about reality perceptions, and the science fiction thriller Premise Moon.
Related: Is The Whale Based On A True Story?
The Whale Cast Received Critical Acclaim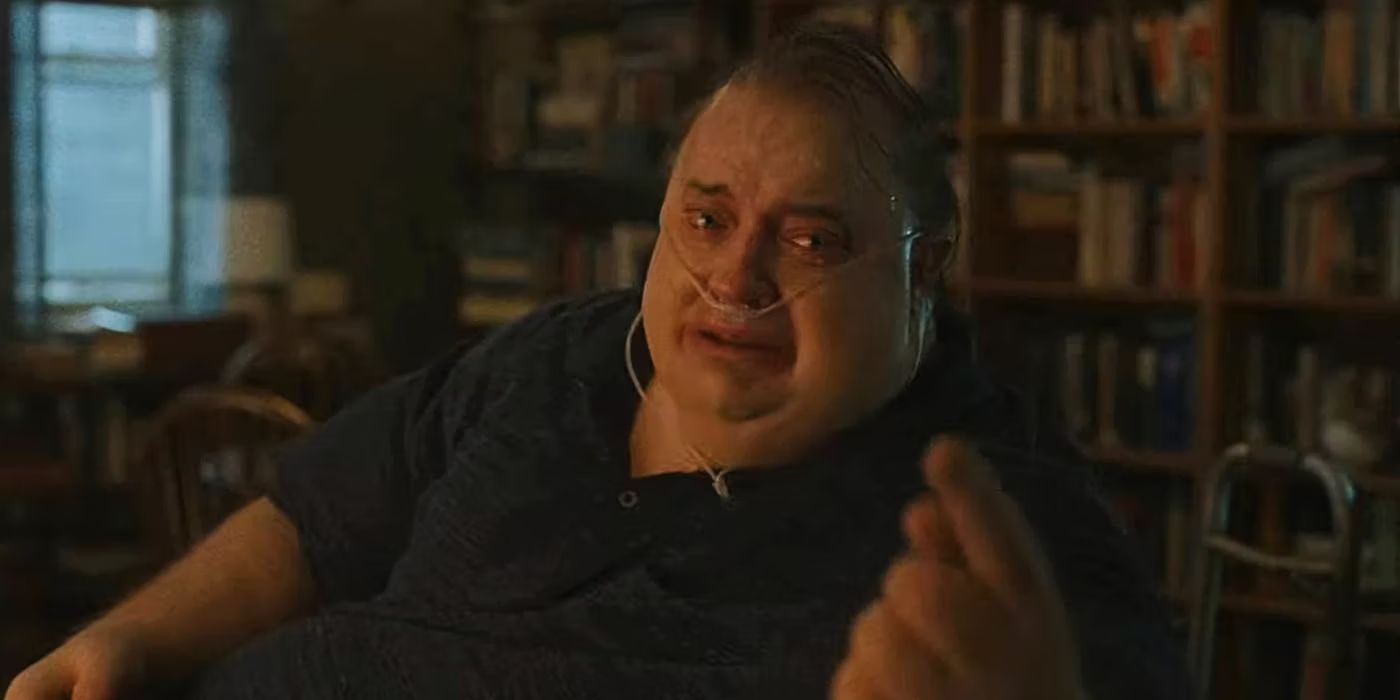 The Whale cast of characters has received widespread critical acclaim to the point that the heart-wrenching psychological drama has been nominated for three Oscars. Brendan Fraser's depiction of the ailing English professor Charlie has been noticed by audiences and critics alike, making it inevitable that he would receive a Best Actor nomination. The Whale is Fraser's first film project after his career comeback — and notably, his first Oscar nomination. Fraser's prize is not without competition, as he'll have to go up against Colin Farrell (The Banshees of Inisherin), Bill Nighy (Living), Austin Butler (Elvis), and Paul Mescal (Aftersun).
Fraser's stunning transformation to appear as 600 pounds and on death's door also did not go unnoticed by the 2023 Oscars, as The Whale was subsequently nominated for Best Makeup and Hairstyling. That being said, there are other films that could beat out The Whale in that category, such as Elvis, The Batman, All Quiet on the Western Front, and Black Panther: Wakanda Forever. Finally, The Whale cast member Hong Chau was nominated for a Best Supporting Actress award for playing Charlie's close friend and nurse, Liz. Chau will also face stiff competition, as she will be contending with Kerry Condon (The Banshees of Inisherin), Jamie Lee Curtis (Everything Everywhere All at Once), Stephanie Hsu (Everything Everywhere All at Once), and Angela Bassett (Black Panther: Wakanda Forever).
More: Why The Whale Is Controversial, Despite Brendan Fraser's Comeback
#Whale #Cast #Character #Guide