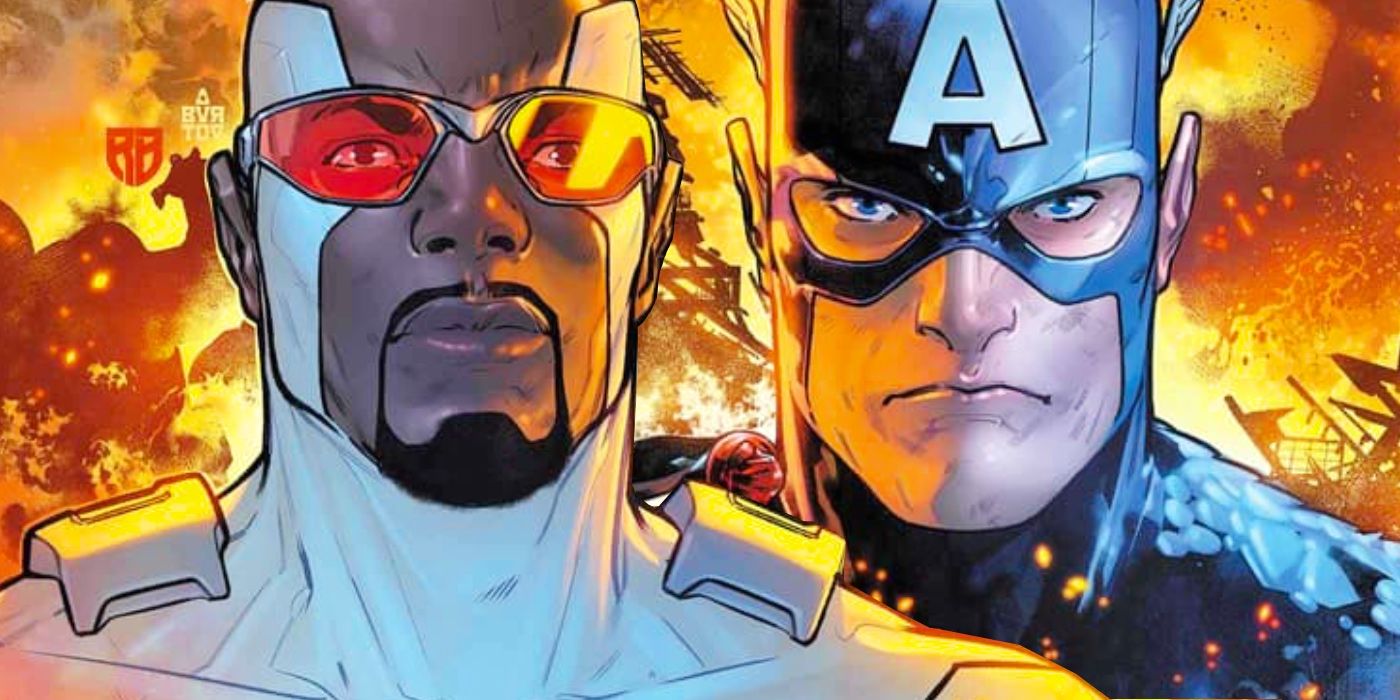 Warning! This post contains a PREVIEW for Marvel's Captain America: Cold War
Marvel Comics has just revealed new details for its upcoming Captain America: Cold War event while also teasing some significant tension between Steve Rogers and Sam Wilson. Having their own trials in their respective series Sentinel of Liberty and Symbol of Truth, their enemies will soon join forces to become an even darker threat, one that will bring Marvel's two Captains together once again (while likely testing their friendship like never before).
In Captain America: Sentinel of Liberty, Steve Rogers is battling the new shadow organization known as the Outer Circle, a cabal with influence and authority over every major organization Captain America and his allies have ever fought for or against (SHIELD, AIM, Hydra, and more). Likewise, Winter Soldier has discovered major ties to the Outer Circle and has joined their ranks as the new Revolution, seeking to take them down from within. Meanwhile, Symbol of Truth has seen Sam Wilson's Cap dealing with a massive vibranium conspiracy centered around the White Wolf. Wilson has also teamed up with Nomad, Steve's adopted son Ian Rogers who was presumed dead. As such, Marvel Comics has confirmed that Cold War will see both series colliding together when Winter Soldier forms an alliance with the White Wolf. It's also teased that Sam and Steve will clash over how to handle this new threat. Here are the newly revealed covers and synopses for the first three chapters of Captain America: Cold War which will kick off in April:
Related: Captain America's New Origin Retcons Could Be Worse Than Secret Empire
Captain America: Cold War To Test Bond Between Steve Rogers and Sam Wilson
CAPTAIN AMERICA: SENTINEL OF LIBERTY #11 [Cold War Prelude]
Written by COLLIN KELLY & JACKSON LANZING
Art and Cover by CARMEN CARNERO
On Sale 4/5
Captain America and the new Invaders may be free from M.O.D.O.C.'s mind control, but they are not yet guaranteed their lives. With the battle nearly won, the Outer Circle have arrived on the ground to collect their prize. It's up to Steve Rogers to wrestle victory from the Power and finally end the Outer Circle's invasion of Manhattan—but choices made at this critical point will alter Steve's understanding of friendship and the stakes of his fight against the Outer Circle for good.
CAPTAIN AMERICA: COLD WAR ALPHA #1
Written by COLLIN KELLY, JACKSON LANZING & TOCHI ONYEBUCHI
Art by CARLOS MAGNO
Cover by PATRICK GLEASON
On Sale 4/12
Bucky Barnes is the Outer Circle's New Revolution, and he has enacted his deadliest move yet—an alliance with Sam Wilson's nemesis, the White Wolf. When Steve Rogers' adopted son, Ian, AKA Nomad, is abducted by someone Steve thought was a friend, he suspects Bucky's hand at work and calls upon the people who know Ian best—Sam Wilson, Sharon Carter, and Misty Knight—to help him get to the bottom of the attack. Has Bucky finally gone too far? Why has Nomad been taken, and what does it have to do with a portal to Dimension Z opening over a secret battleground in Alaska?
CAPTAIN AMERICA: SYMBOL OF TRUTH #12
Written by TOCHI ONYEBUCHI
Art and Cover by R.B. SILVA
On Sale 4/26
Part two of COLD WAR, White Wolf has used the power granted him by Bucky Barnes to take control of Dimension Z and unleash its creatures onto the Captains America. Sam Wilson and Steve Rogers are prepared to fight their way through the onslaught, but the Outer Circle has more stakes in this fight than our heroes realize. Can Sam Wilson and Steve Rogers agree on their priorities before they fall to this new threat? And what exactly does Bucky Barnes intend to do to Ian Rogers?
Based upon the collective synopses, it definitely seems as though both Captain Americas will be facing a battle like never before. The return of Dimension Z and its teased connection to the Winter Soldier's upcoming alliance with White Wolf is very concerning, to say the least. However, what's even more problematic are the implications that Steve and Sam will be at odds with each other.
Given the personal nature of facing Bucky and the suggestion that Nomad will be taken by the Outer Circle, it stands to reason that Steve will want to try and save his best friend and son. However, Sam's priority will no doubt be saving the world at any cost and stopping the threat before it's too late. As such, it definitely seems as though the first major conflict of Cold War will be the one between its leading heroes.
At any rate, Captain America: Cold War promises to be a major crossover event that will simultaneously pay off the narratives of both Captain America series while raising the stakes even higher. Here's hoping Steve and Sam will be able to find the best way forward together. After all, two shields are better than one. Captain America: Cold War begins this April from Marvel Comics.
Source: Marvel Comics
Next: Captain America's Super-Immune System Is His Most Extreme Power
#Marvels #Captain #Americas #Finally #Clash #Cold #War #Crossover