Luke Skywalker's yellow lightsaber adds new meaning to Rey's eventual weapon, but Luke's weapon gets a new owner in Star Wars #30.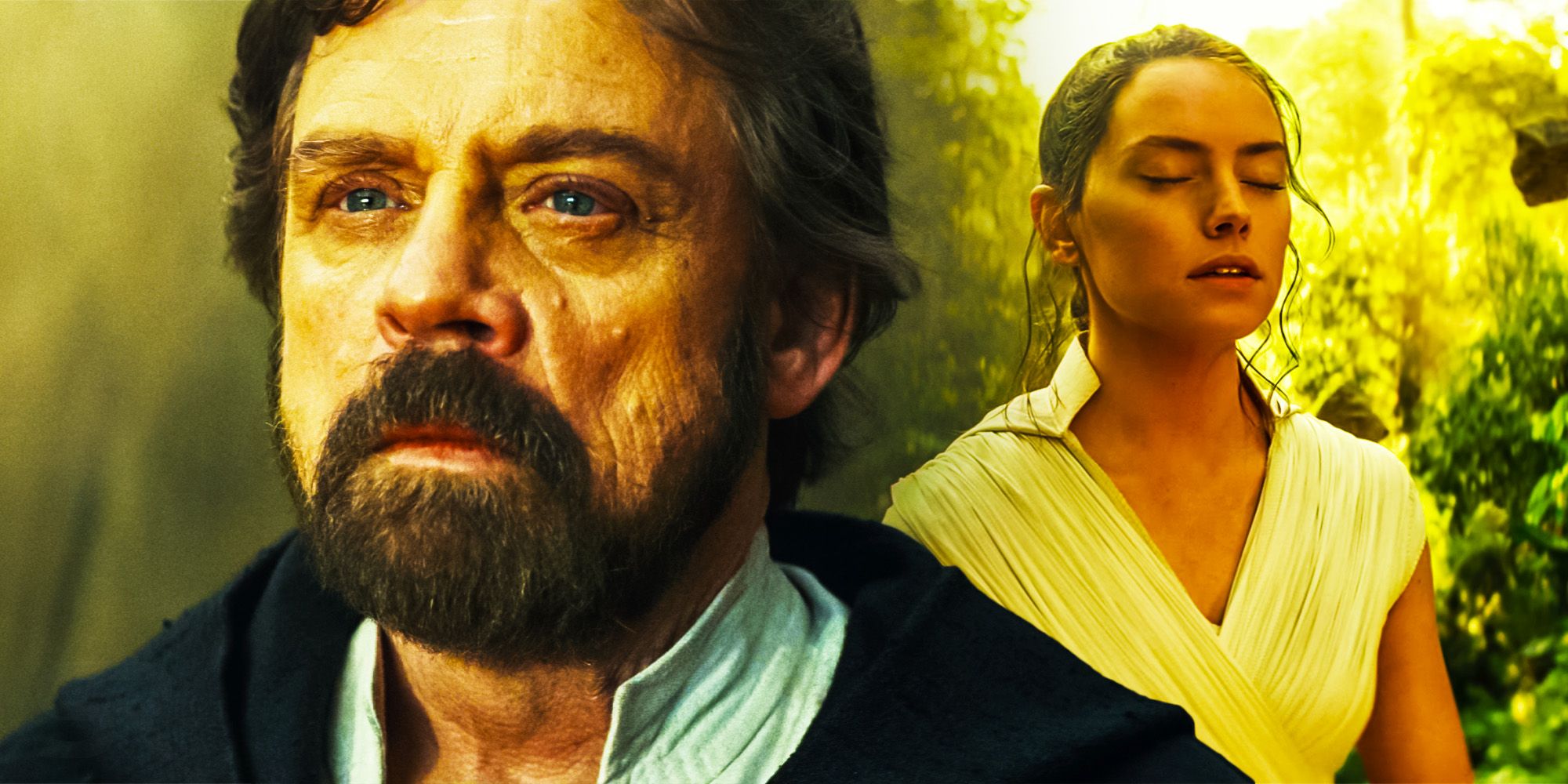 The new canon has already revealed that Luke Skywalker was the first major Star Wars hero to wield a yellow-bladed lightsaber, decades before Rey took up her own (along with Luke's last name). But Luke's temporary weapon has gained a new, mysterious owner.
Before the events of Return of the Jedi, Luke Skywalker famously loses his father's blue-bladed weapon when Vader cut off Luke's hand, lightsaber and all, in the finale of The Empire Strikes Back, leading him to build his own iconic green-bladed lightsaber. Between his most famous weapons, however, Luke uses an ancient yellow-bladed lightsaber, as shown in Marvel's current Star Wars comics. Shortly after the events of Empire Strikes Back, Luke travels to a High Republic-era Jedi outpost on Tempes, finding a single-bladed yellow lightsaber among the artifacts, having once belonged to a Jedi Temple Guard. And after using the weapon in a brand new, canonical chapter, the lightsaber has been claimed by a new figure in the Star Wars universe.
Related: Last Jedi Comic Shows Rey Never 'Beat' Luke (Obviously)
Is Luke's Yellow-Bladed Lightsaber Lost?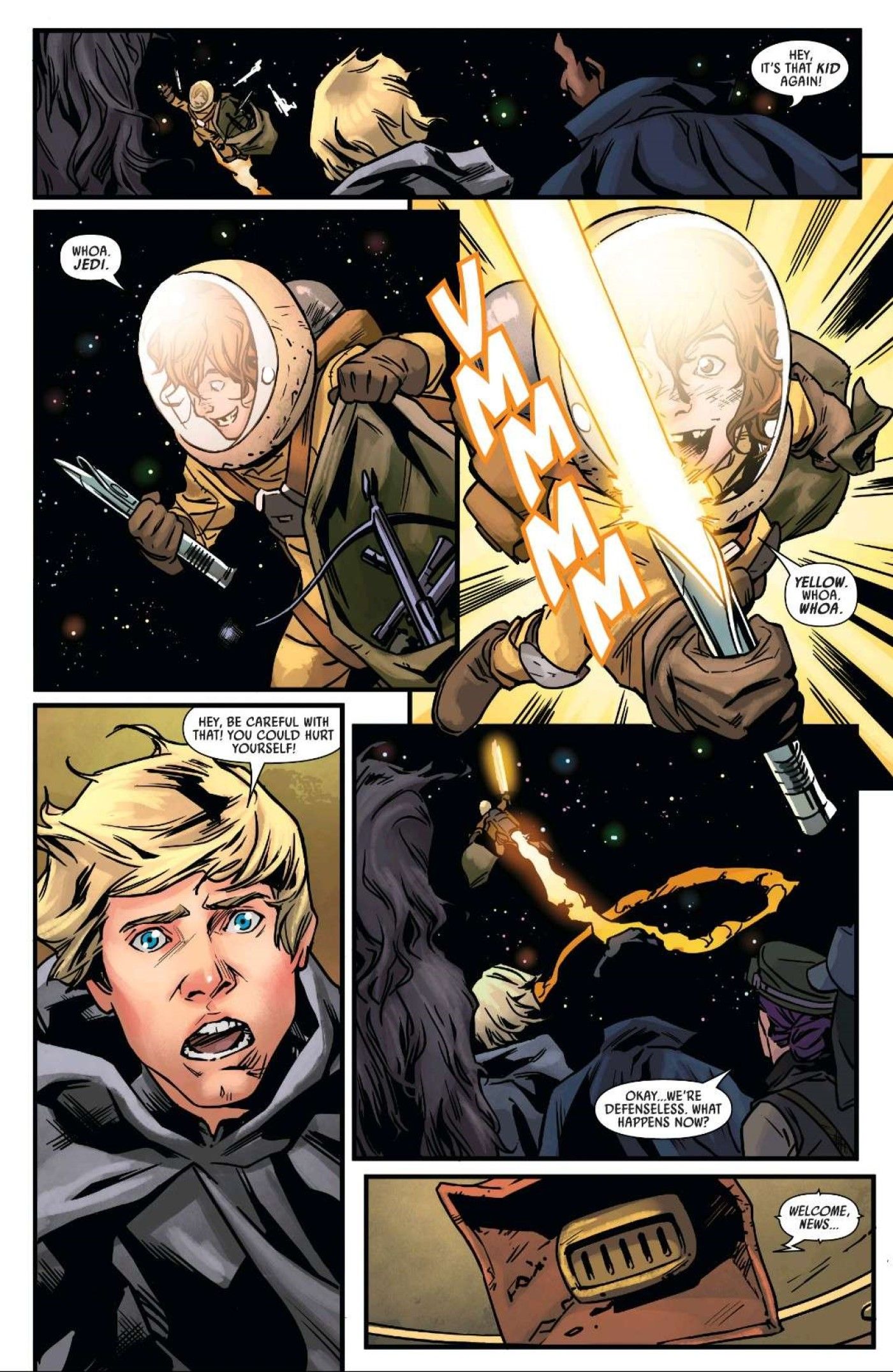 The loss of Luke's yellow-bladed lightsaber is potentially shown in Issue #30 of 2020's Star Wars comics, by Charles Soule and Andrés Genolet, in which an unnamed child steals the weapon and flees with it, leaving Luke unarmed. Luke has the weapon again on the cover of the upcoming 31st issue, but this does not necessarily mean he will retrieve the weapon in the issue itself. If the child ends up being Force-sensitive, he and the lightsaber might reappear after the events of the Star Wars sequel trilogy… which conspicuously ends with Rey wielding a yellow-bladed lightsaber of her own.
After the final defeat of Palpatine and the Final Order (an amalgamation of the First Order, Sith Eternal, and the Sith Order itself) in Star Wars: The Rise of Skywalker, Rey uses parts of her quarterstaff and a Kyber crystal to construct a new yellow-bladed lightsaber. Despite its blade sharing a hue with Luke's former weapon, the two lightsabers are not the same. Symbolically, Rey's yellow-bladed weapon has more in common with Luke's Return of the Jedi lightsaber, as both represent their respective owners' ascension to Jedi knighthood, as constructing a lightsaber is a vital rite of passage for all Jedi.
There is a possibility that Rey could encounter Luke's old lightsaber, however. Rey will presumably rebuild the Jedi Order yet again following the events of the sequel trilogy, and the unnamed child could potentially end up a student of hers. Assuming he still has Luke's old yellow-bladed lightsaber, he would create yet another connection between Rey and Luke Skywalker after the events of the Star Wars Skywalker Saga.
Next: Star Wars Missed a Big Opportunity Not Showing Luke Build His Lightsaber
#Luke #Skywalkers #Yellow #Lightsaber #Owner #Rey