Xanthi Perdikomatis & Brett Robinson didn't initially impress other players on The Circle season 5, but they've been making up for lost time since.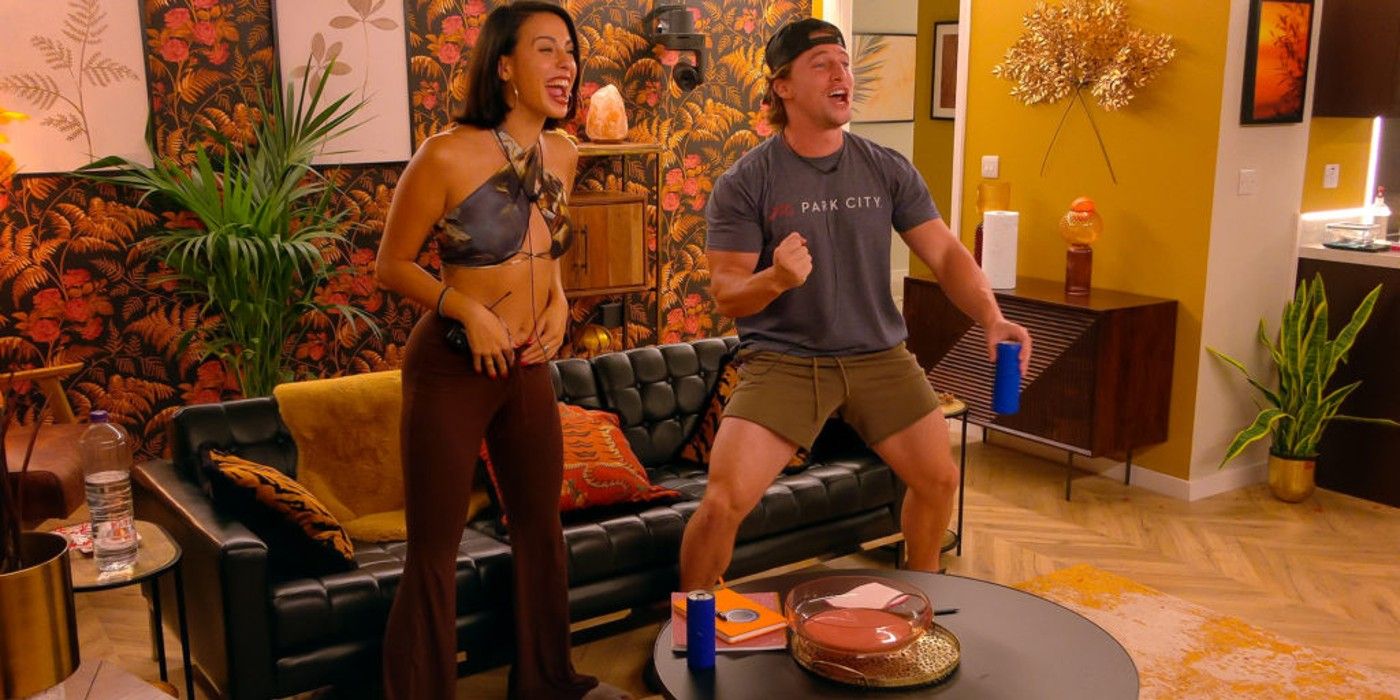 Xanthi Perdikomatis and Brett Robinson entered The Circle season 5 as individual players, but it didn't take long for them to unexpectedly team up against their competitors. As two of the original nine contestants to enter The Circle when the popular Netflix series returned on December 28, Xanthi and Brett both decided to stay true to themselves and play authentically. Although Xanthi, a model, slightly catfished the others by pretending to be a preschool teacher. Brett, on the other hand, was already known by some reality fans prior to being cast on The Circle after he appeared as a houseguest on Big Brother season 20.
While Brett's impending arrival interested fans when The Circle season 5 trailer dropped just before the season premiere on December 28, he wasn't the only player that viewers immediately set their sights on. In addition to Brett, The Circle season 5 features several other contestants who already have a shot to win the $150,000 grand prize, including first deaf contestant Raven Sutton, Marvin Achi, who was supposed to compete on Big Brother season 24, and the return of The Circle season 1 runner-up, Shubham "Shooby" Goel. Unfortunately, Brett and Xanthi briefly had their time on The Circle season 5 cut short, but the tides quickly turned back in their favor in the season's first twist.
Related: How Brett Robinson Can Use His Big Brother Skills On The Circle
Xanthi & Brett Were The First Blocked On The Circle Season 5
Like failed catfish Parker Abbott from The Circle season 4, Brett and Xanthi became the first contestants to be eliminated on The Circle season 5 after they were blocked by top influencers Raven and Chaz Lawery, respectively. While Raven explained to viewers and her interpreter Paris that she thought there was something off about Brett's personality, Chaz decided to block Xanthi because the two players had yet to establish a connection. Although their journeys were quickly cut short on The Circle, Brett and Xanthi soon discovered they weren't completely out of the competition.
Xanthi & Brett Returned To The Circle Season 5 As Jennifer
The Circle has been full of twists and turns since Joe Sasso was voted the first winner in 2020, and The Circle season 5 has already been proven to be no exception. After they were blocked by Raven and Chaz, who already established an alliance with Marvin like Alyssa and Bru from The Circle season 4, Xanthi and Brett were able to meet in person. In addition to being relieved that they were not catfished by each other, Xanthi and Brett received even more good news when they were offered to reenter The Circle season 5 with a fake persona: Jennifer, a 51-year-old dog trainer. Naturally, Xanthi and Brett immediately accepted the offer and, along with new player Tom Houghton, got to work at establishing themselves as contestants worthy of being kept in the game.
Xanthi & Brett Are Coming For Raven On The Circle Season 5
Although their respective first impressions failed, Xanthi and Brett have been making the best of their second chances on The Circle season 5, with their main target set on top influencer Raven. Xanthi and Brett not only initiated a successful date with Tom as Jennifer but correctly guessed that fellow contestant Brian Clark was a catfish, as Brian entered the game as his daughter Brittney. While Raven and The Circle host Michelle Buteau are popular among fans, Xanthi and Brett hope to try and lower Raven's ratings by creating a fake dating profile for her. However, this may throw a wrench in Raven's gameplay since she and Marvin have a one-way ticket towards a showmance. With Shubham still yet to enter the game and a lot of competition left to go, time will tell how long Xanthi and Brett can continue to fool the others as Jennifer.
More: The Circle: What Happened To Shubham Goel After Season 1
The Circle season 5 is available to stream on Netflix with new episodes dropping on January 18.
#Xanthi #Perdikomatis #Brett #Robinson #Teamed #Circle #Season