Fire and Forget is a powerful Linear Fusion Rifle added in Season 19 of Destiny 2. Guardians are able to craft this weapon and create a God Roll.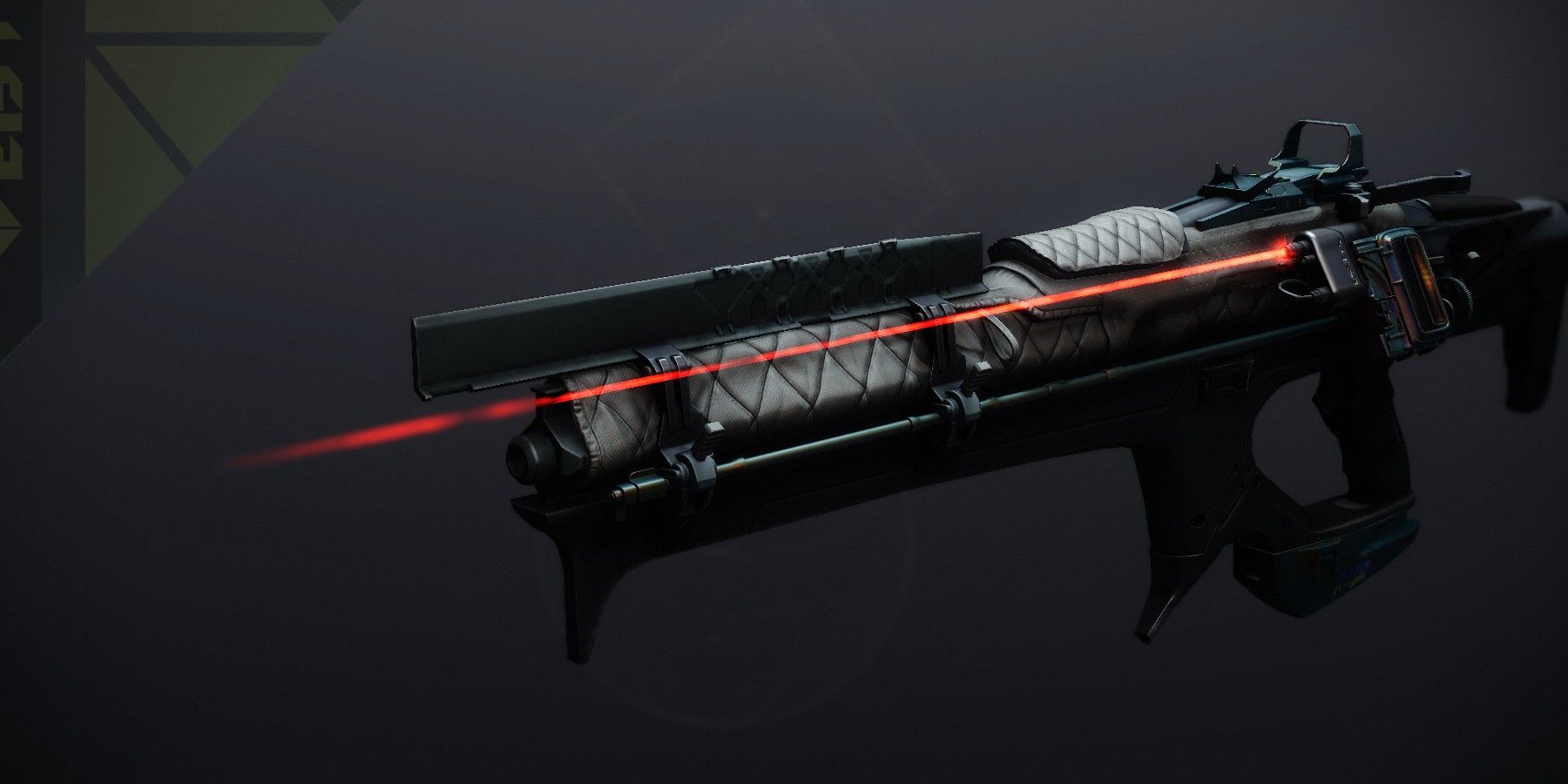 Fire and Forget is a Legendary Linear Fusion Rifle introduced into Destiny 2 with Season of the Seraph. This fantastic Stasis weapon is incredible in both PvE and PvP content. The gun can roll with many different Perks and sits in the Heavy slot. For the past few seasons, Linear Fusion Rifles have dealt some of the best DPS in the game. Guardians looking to challenge end-game content in Season 19 will want to bring Fire and Forget.
The Duality Dungeon introduced the first Aggressive Frame Linear Fusion Rifle into the game. Instantly, the Stormchaser in Destiny 2 became the go-to choice for boss DPS. This is because Aggressive Frame Linear Fusion Rifles fire a three-round burst while only costing one ammo. Stormchaser is still a powerhouse weapon, but Fire and Forget is a great alternative. This Linear Fusion Rifle also has an Aggressive Frame, can be acquired through much easier methods and is crafted in the Enclave.
Related: Destiny 2: Every Way To Get Artifice Armor Before Lightfall
How To Earn The Fire And Forget (& God Roll) In Destiny 2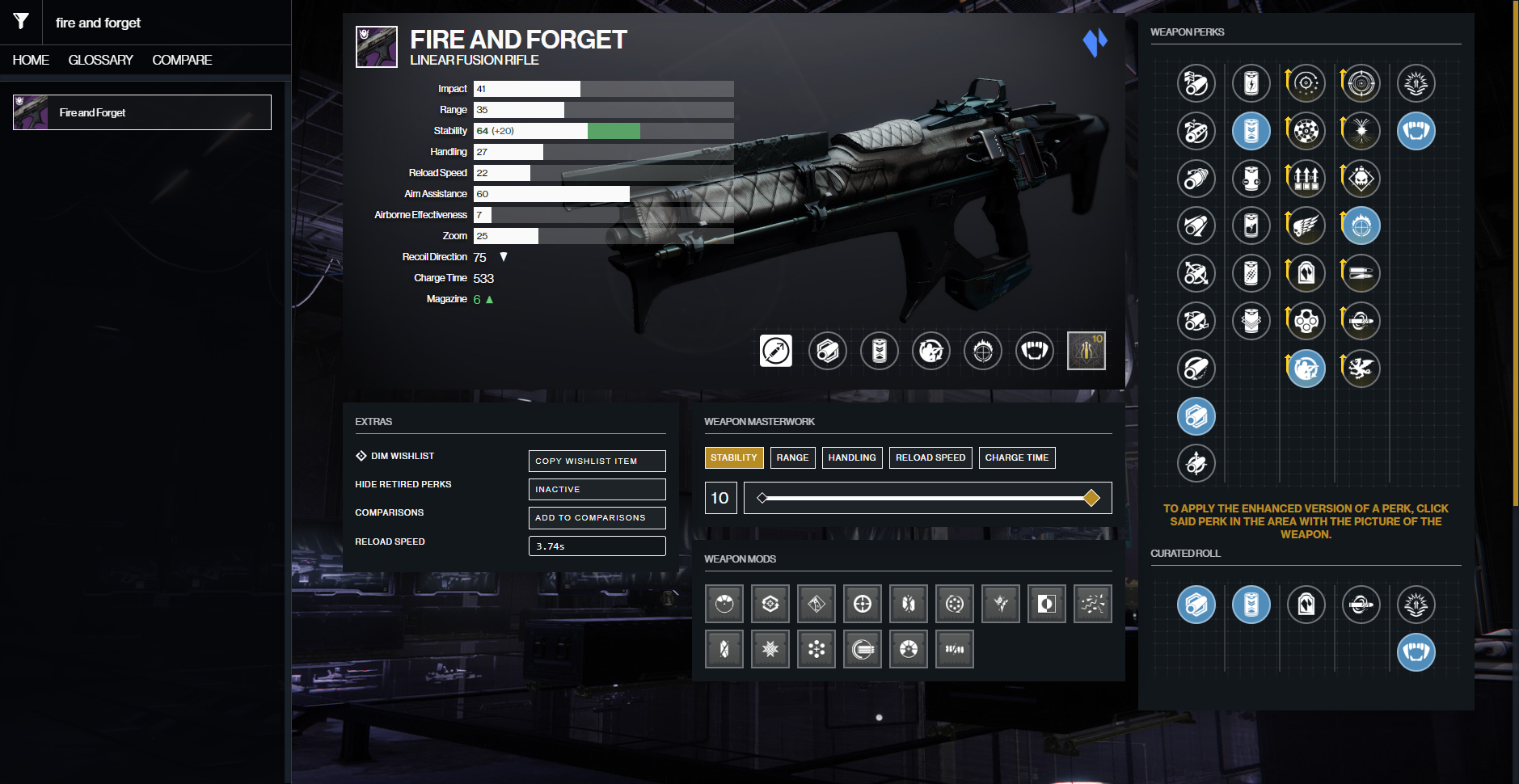 Guardians can earn Fire and Forget from Season of the Seraph activities. Completing and opening the final chest of a Heist Battleground will reward a random piece of gear. While the odds may seem low, lucky Guardians can acquire a Deepsight version of the Fire and Forget Linear Fusion Rifle in Destiny 2. Acquiring the "Heisted Deepsight" upgrade will guarantee a Deepsight weapon upon the first Heist Battleground clear each week. Alternatively, "Focusing Deepsight" allows players to earn progress towards a Pattern by focusing one Legendary Engram each week. As of January 31, 2023, Guardians can obtain Deepsight weapons from the Seasonal vendors daily instead of weekly until the Lightfall expansion. The God Roll for Fire and Forget can be found below:
| Barrel | Magazine | Trait 1 | Trait 2 |
| --- | --- | --- | --- |
| Polygonal Rifling | Enhanced Battery | Field Prep | Focused Fury |
Polygonal Rifling is the ideal Barrel choice for Fire and Forget because it is optimized for recoil reduction while also granting increased stability. Enhanced Battery adds one extra shot to the magazine, which synergizes with the Veist Stinger Origin Trait. This gives a slight chance to fully reload upon dealing damage with this weapon in Destiny 2. Fire and Forget is unique in this respect, as Veist Stinger can activate on any of the three shots from a single burst. Field Prep further increases the ammo reserves while also boosting stow, ready, and reload speed when crouching. Lastly, Focused Fury increases damage by 20% if half the magazine is dealt as precision damage.
Veist Stinger and these Perk choices allow Fire and Forget to compete with other Linear Fusion Rifles, like Stormchaser. While similar weapons can roll with powerful Traits, such as Firing Line, this gun's damage is not reliant on other Fireteam members. Additionally, players can apply enhanced Perks to crafted weapons for even more benefits. Finally, guardians should take advantage of the guaranteed daily Deepsight focusing on acquiring Fire and Forget in Destiny 2.
More: Destiny 2: How To Get The Trustee Scout Rifle (& God Roll)
Destiny 2

Released:

2017-09-08

Genre:

Sci-Fi, Action

ESRB:

M
#Fire #Forget #Linear #Fusion #Rifle #God #Roll