To augment Lunar Envoy's Necklaces, Rings, and Earrings in Final Fantasy XIV: Endwalker, players must acquire a resource known as Moonshine Shine.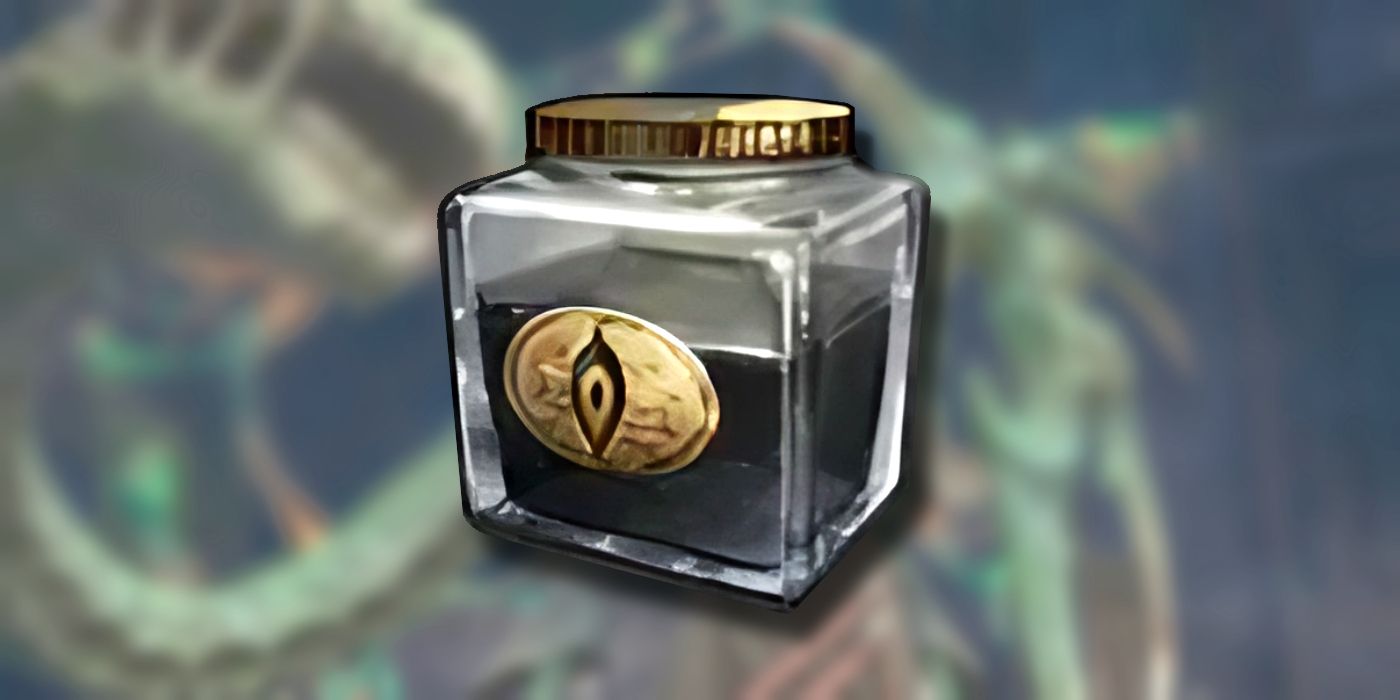 Similar to Moonshine Twine and Brine, Moonshine Shine is an alchemical reagent in Final Fantasy XIV: Endwalker that players will need for upgrading their Lunar Envoy's Gear Sets. For reference, brine is used for enhancing weaponry, twine is required for improving armor, and Moonshine Shine is essential for Accessory Augmentation. For instance, if Warriors of Light would like the Augmented Lunar Envoy's Necklace or Augmented Lunar Envoy's Ring, they must visit Khaldeen in Radz-at-Han with their base necklace and ring to have them combined with Moonshine Shine for Augmentation. This process increases the equipment's Item Level from 620 to 630.
To get Moonshine Shine in Final Fantasy XIV, Warriors of Light have four primary options. The first involves making an exchange with Djole, the Pandaemonium Relic Exchange Vendor in Radz-at-Han.
Since 6.01, this friendly Viera has been offering a variety of powerful gear and valuable wares in exchange for resources only obtainable in the Pandæmonium Raids. Likewise, Moonshine Shine is one of her offerings and can be purchased for four copies of Abyssos Mythos II, a guaranteed drop from the Abyssos: The Sixth Circle (Savage) Raid.
Related: Final Fantasy XIV: How to Unlock Sil'dihn Subterrane Variant Dungeon
Best Ways To Get Moonshine Shine in FFXIV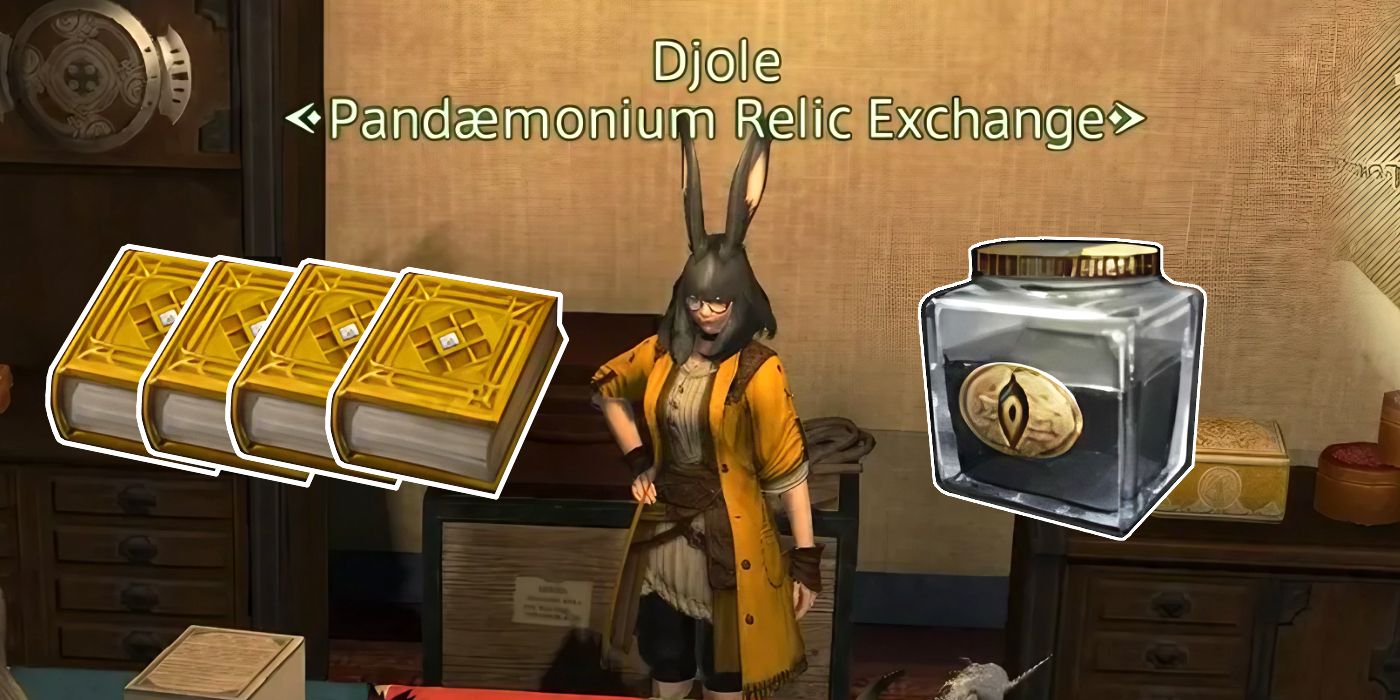 Abyssos: The Sixth Circle (Savage) also has a chance to drop a bottle of Moonshine Shine in the second Treasure Coffer of the FFXIV Raid. However, sources at Fanbyte state players will need to roll Need or Green on the item, similar to a piece of gear. Therefore, acquiring this rare alchemical reagent is not guaranteed during each run. Nevertheless, once adventurers have accumulated four tomes of Abyssos Mythos II, YouTuber PanyapiN Gaming has demonstrated that users can find Djole within the Balshahn Bazaar of Radz-at-Han at the coordinates (X: 10.3, Y: 9.7). As noted above, Djole and the Savage Raid are not the only sources of Moonshine Shine in Final Fantasy XIV.
Moonshine Shine can also be acquired in exchange for Aglaia Coins and Sack of Nuts in FFXIV. As its name implies, Aglaia Coins are rarities obtained from clearing Aglaia, a Level 90 Raid in Endwalker. On the other hand, Sack of Nuts is a currency earned from partaking in The Hunt, during which players travel the world searching for specific targets and Elite Marks. Users can trade one Aglaia Coin for Moonshine Shine with Nesvaaz at (X: 10.5, Y: 10.1) in Radz-at-Han. Alternatively, if players have 2,000 Sacks of Nuts, they can buy a bottle of shine from Wilmetta in Radz-at-Han at (X: 10.5, Y: 7.4) in FFXIV.
More: How to Farm Allagan Tomestones of Poetics in FFXIV
Source: YouTube/PanyapiN Gaming | Fanbyte
Final Fantasy 14

Original Release Date:

2013-08-27

Developer:

Square Enix

Franchise:

Final Fantasy

Genre:

Fantasy, MMORPG

Platform:

PlayStation 3, PlayStation 4, PlayStation 5, Microsoft Windows, macOS

Publisher:

Square Enix

ESRB:

T

Multiplayer:

Online Co-Op, Online Multiplayer

Summary:

Final Fantasy 14 (Final Fantasy XIV) is the fourteenth entry in the Final Fantasy franchise. It is an MMORPG that initially launched in 2010 before it was completely rebuilt from the ground up for a 2013 release as Final Fantasy XIV: A Realm Reborn. After the events of the 2010 iteration's conclusion, where the primal dragon Bahamut brings calamity to the land of Eorza, the player survives and is sent into the future by five years in a world that has begun to rebuild, but now thrust into the middle of a war from the Garlean Empire. As a consistently expanding world with an ever-scaling storyline, Final Fantasy XIV's narrative grows with each expansion, with the core experience still surrounding working with other players and NPCs as they level and customize their characters, engage in real-time events, and coordinate teams to enter massive dungeons to face raid bosses. The game is available to play with people of several nations and has a massive translatable vocabulary for players to be able to work with one another despite language barriers. The most recent expansion pack, Endwalker, was released in December of 2021 and follows the trend of each title releasing roughly every two years. Final Fantasy XIV is available as a free-to-play title up to level 60, where the game then transitions to a subscription model. The game is playable on Microsoft Windows, macOS, PlayStation 4, and PlayStation 5, as the PlayStation 3 version was shuttered in 2017.

Expansion Packs :

Heavensward (June 2015), Stormblood (June 2017), Shadowbringers (July 2019), Endwalker (December 2021)
#Moonshine #Shine #Final #Fantasy #XIV