Ostensibly, Pokémon Go is a friendly game that encourages people to get out of their bedrooms into the fresh air, come together and geek out about their favorite Pokémon. However, it's also competitive! If you want to be the best there ever was and climb to the top of the pile, you'll want to collect as many Pokémon as you can, train them to be the best, and beat every other trainer out there. Since we live in the 21st century, you don't have to do this completely on your own accord, there is technology out there to help. We have compiled a list of the top 10 best Pokémon Go accessories that will assist you in your quest to be the best. Some items on our list will automatically work in the background, doing most of the heavy lifting for you without you even realizing it on your daily commute. Other accessories included will hatch your eggs faster and spin PokéStops more quickly than you can do yourself. We have also included accessories that you may have looked over before heading out to a capturing party. Regardless, if you play Pokémon Go, there will be something on our list to make your life a little bit easier. Let's take a look.
The Nintendo Pokémon Go Plus will easily become your best friend if you play Pokémon Go. The little device has been designed by Nintendo to assist you when you're out and about, alerting you when there are Pokémon nearby. It can be worn as a bracelet and when you are in the vicinity of a Pokémon the little surface LED light will start to flash, if you happen to miss that, it will also send a little vibration out. The device is compatible with all operating systems apart from Android devices that use Intel Atom processors, so bear that in mind. It connects via Bluetooth and Nintendo has stated that is a low-energy connection, so it shouldn't really diminish your battery too much.
When within range of a Pokémon stop, there isn't any need to whip your phone out, if you press the button on top of the device it will throw a Pokéball to catch Pokémon. The device will let you know with a flash and a vibration to let you know if you were successful or not. Although this is really convenient, it is quite unlikely that it will catch any rare Pokémon that you come across as it only uses regular Pokéballs and will only attempt a capture once. If you keep this in mind, the benefits that the device offers such as hatching eggs, earning buddy candy, and collecting Pokéstops goodies make it a must-have Pokémon Go accessory.
Key Features
LED flash and vibrations notification when Pokémon are close
Officially licensed Pokémon merchandise
Will throw a Pokéball at your command
Connect to your smartphone via Bluetooth
Specifications
Type: Wristwatch
Color Options: Red, White + Black
What's Included: Pokémon Go Plus device and wristband
Brand: Nintendo
Pros
Makes it much faster to capture Pokémon
Brilliant for tracking distance for egg hatching
It won't drain your phone battery as much as playing Pokémon Go does
Cons
It will only through red Pokéballs, unlikely to capture rare Pokémon
Buy This Product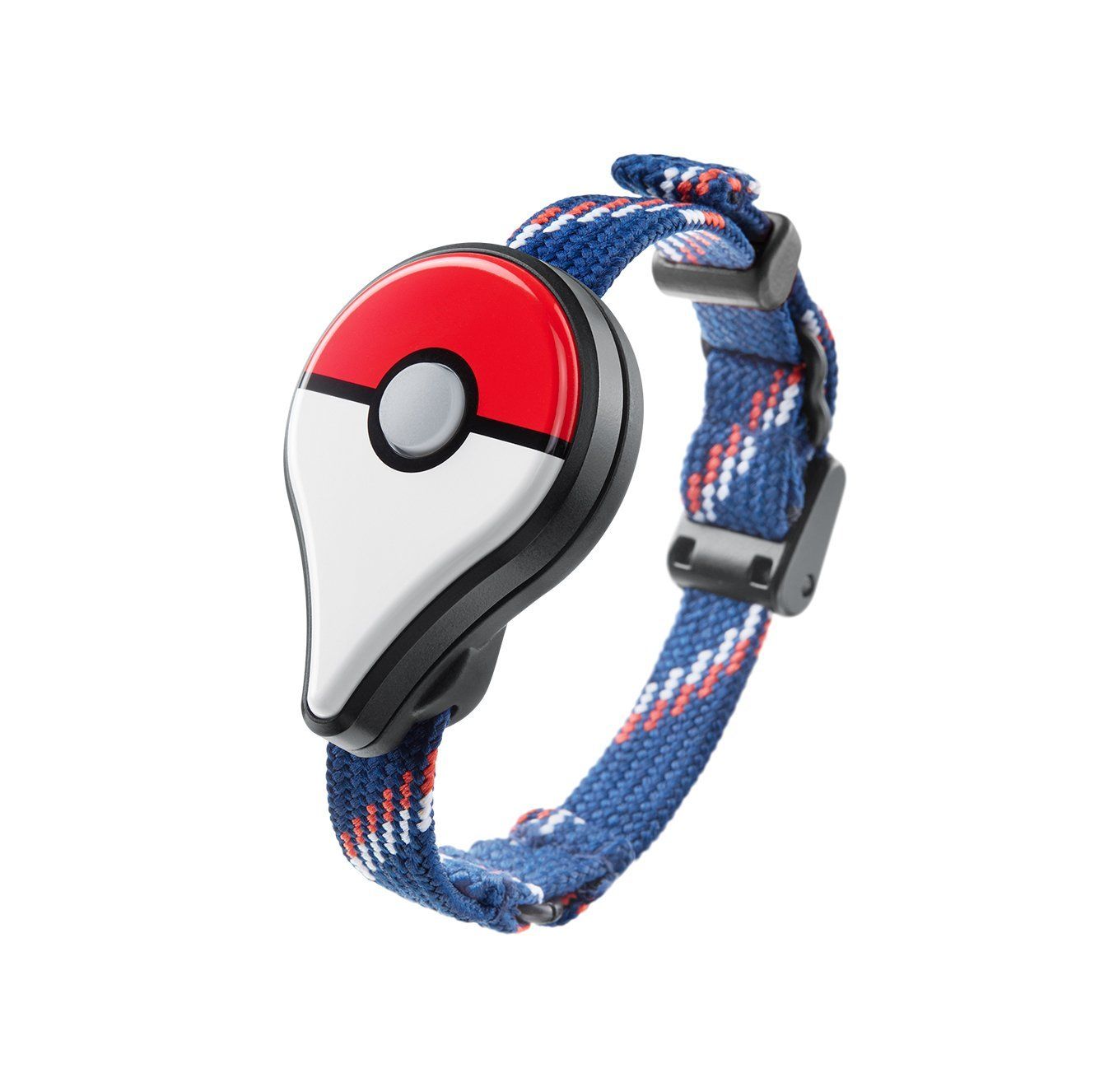 The MEGACOM Pocket Dual Catchmon is for those who are serious about Pokémon Go. Compatible with most IOS and Android phones (there are some specific requirements that you'll have to check out) this is an auto-catching device that you can pair up with 2 different phones. This doubles your efficiency and will shoot you up the leaderboard. This device is powered by two AAA batteries, which is a bit of a nuisance considering you cannot charge it, but, it does give you over 600 hours of standby power, which obliterates other devices' battery capacities. If you are worried about going through a lot of batteries, you can pick up rechargeable AAA's.
There are audible, visual and vibration alerts for a variety of different things. The device will alert you if your phone unpairs with the device, if your storage is full, if you are low on battery or if your bag fills up. A great thing about the Pocket Dual Catchmon is its durability, it is housed in a rubbery cover that will protect it from any falls, bumps, or scrapes. The connection distance is up to 20 meters, so you can have your catching partner's phone connected for ultimate efficiency. If you are serious about Pokémon Go, then this is the accessory for you.
Key Features
Auto-catching feature works in the background
Powered by AAA batteries
Available for up to 2 different phones
Wireless connection range up to 20m
Specifications
Type: Pocket Catcher
Color Options: White and Blue
What's Included: Pocket catcher and band
Brand: MEGACOM
Pros
2 devices connected at once maximises efficiency
Up to 600 hours of battery life
One button activation, no fiddling around to get going
Really durable design
Cons
On the higher end for price
Buy This Product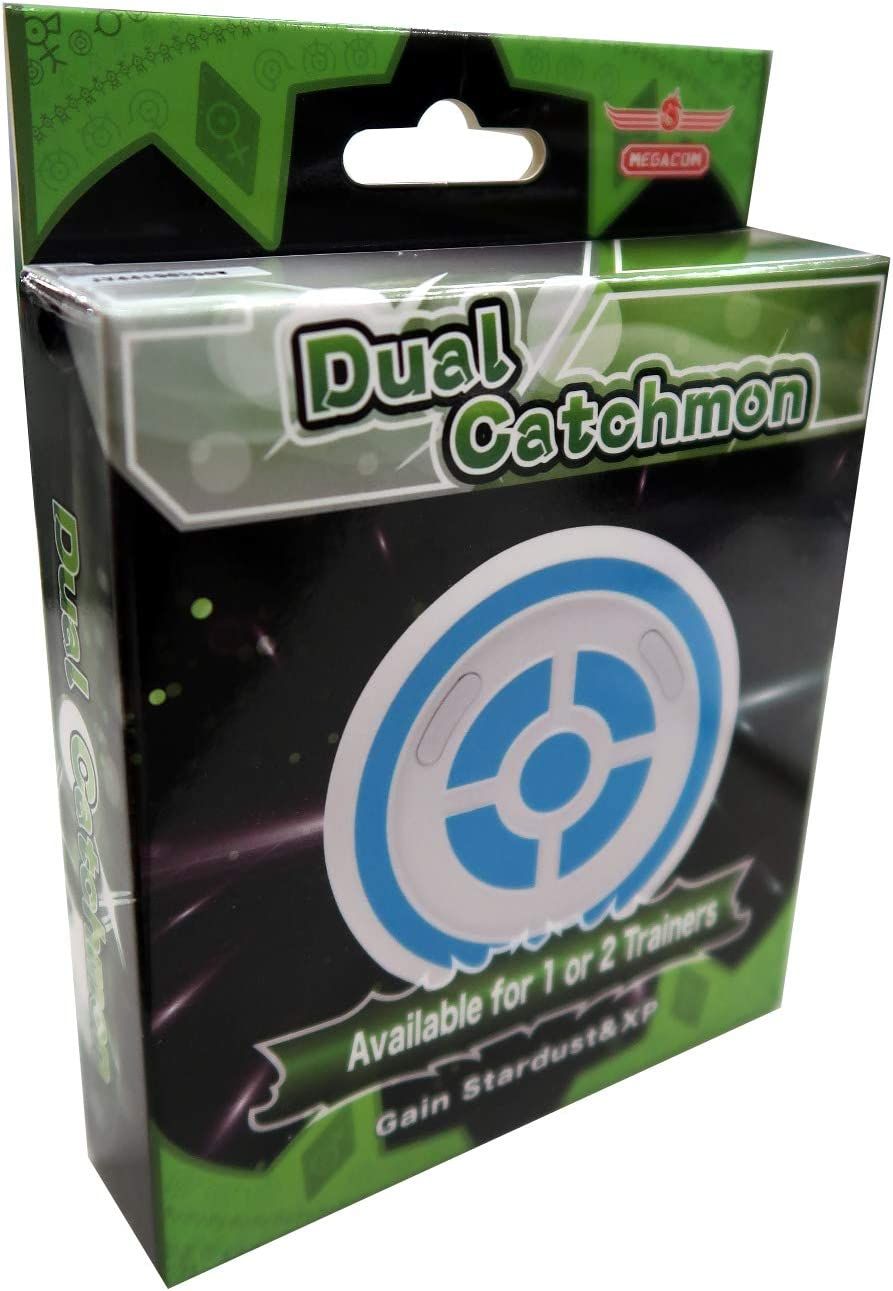 This item is one of the ones we have included on our list that you may have overlooked before going out and capturing Pokémon. The PopGrip is a smartphone holder that gives you an extra grip on your phone. It allows for one-handed use on your device and gives you a little extra comfort when on the move and trying to capture Pokémon. It is applicable with pretty much every phone on the market as there is an adhesive that will allow you to stick it to the back of your phone. Although this isn't particularly designed for people who play Pokémon Go, it is a useful accessory that may save you from dropping your phone when capturing and battling Pokémon gets a bit rigorous. If you are anything like us, dropping your phone is a daily occurrence and anything to help you from paying for a costly screen replacement whilst playing Pokémon Go is a good idea.
Key Features
Compatible with every device you can play Pokémon Go on
Durable Pop Socket grip which is 'anti-drop'
Allows for one-handed phone use
Replaceable PopTops for a change of style
Specifications
Brand: PopSockets
Material: Plastic
Style: Back grip
Magnetic: No
Pros
Will allow extra grip when out and about
Makes playing Pokémon Go more comfortable
Multiple colours to choose from
Cons
May not work as well on really heavy devices
Buy This Product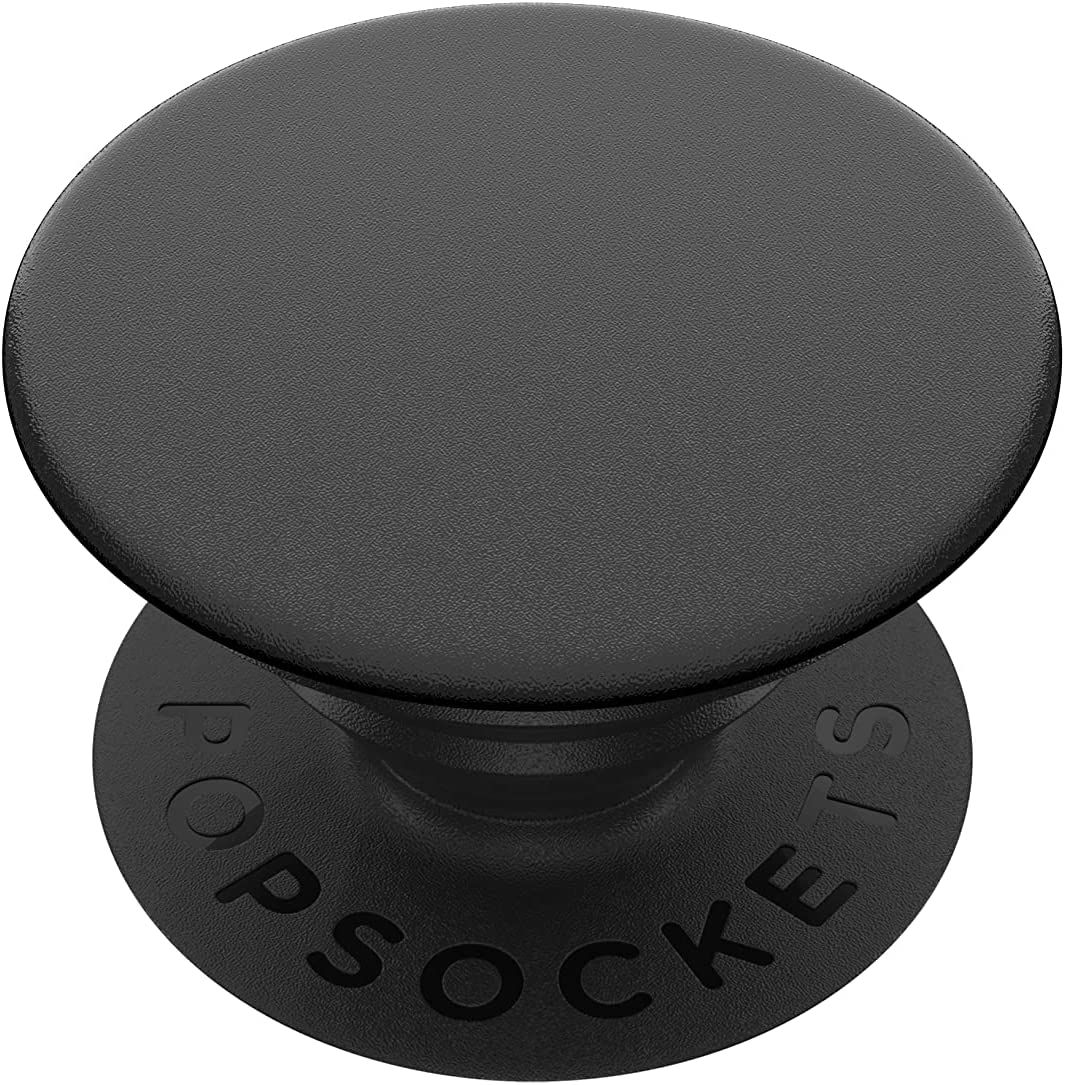 PopSockets: PopGrip with Swappable Top
The Pocket Egg is a great option for the solo catcher. Available in two different colors, green or blue, the Pocket Egg is a companion that will automatically capture Pokémon when you are on the move. Unlike others on our list, this device is only compatible with one phone, so bear that in mind if you usually catch 'Mon with a partner. It is compatible with IOS devices between versions 9.0-15.0 and with Android devices on v7.0 and above. The Egg connects to your phone via Bluetooth and has a surprisingly strong connection with a wireless distance of 20 meters. We're particularly impressed with the speed of the device and the strength of the connection, it will spin Pokéstops even when you are traveling in a car.
The Egg requires 2x AAA batteries for power, but you can rely on it lasting for days without having to change them. It is a really easy device to use, the only time you will ever find yourself having to press any buttons is if the device disconnects from your phone. There are no convoluted LED screens or an excess of buttons, it offers a really simple design that is quick to get the hang of. The Pocket Egg is a utilitarian device and does exactly what it says on the tin, catches Pokémon and spins Pokéstops.
Key Features
Requires 2 AA batteries for power
Bluetooth connection with a 20-metre wireless range
Compatible with both IOS and Android devices
Vibrating notifications when in a Pokémon vicinity
Specifications
Type: Pocket device
Color Options: White and purple
What's Included: Pocket egg and strap
Brand: Sehawei
Pros
A long wireless range, more than you'll ever need
Really fantastic battery life
Super simple and fun design
Cons
Maybe a bit too simple for some
Buy This Product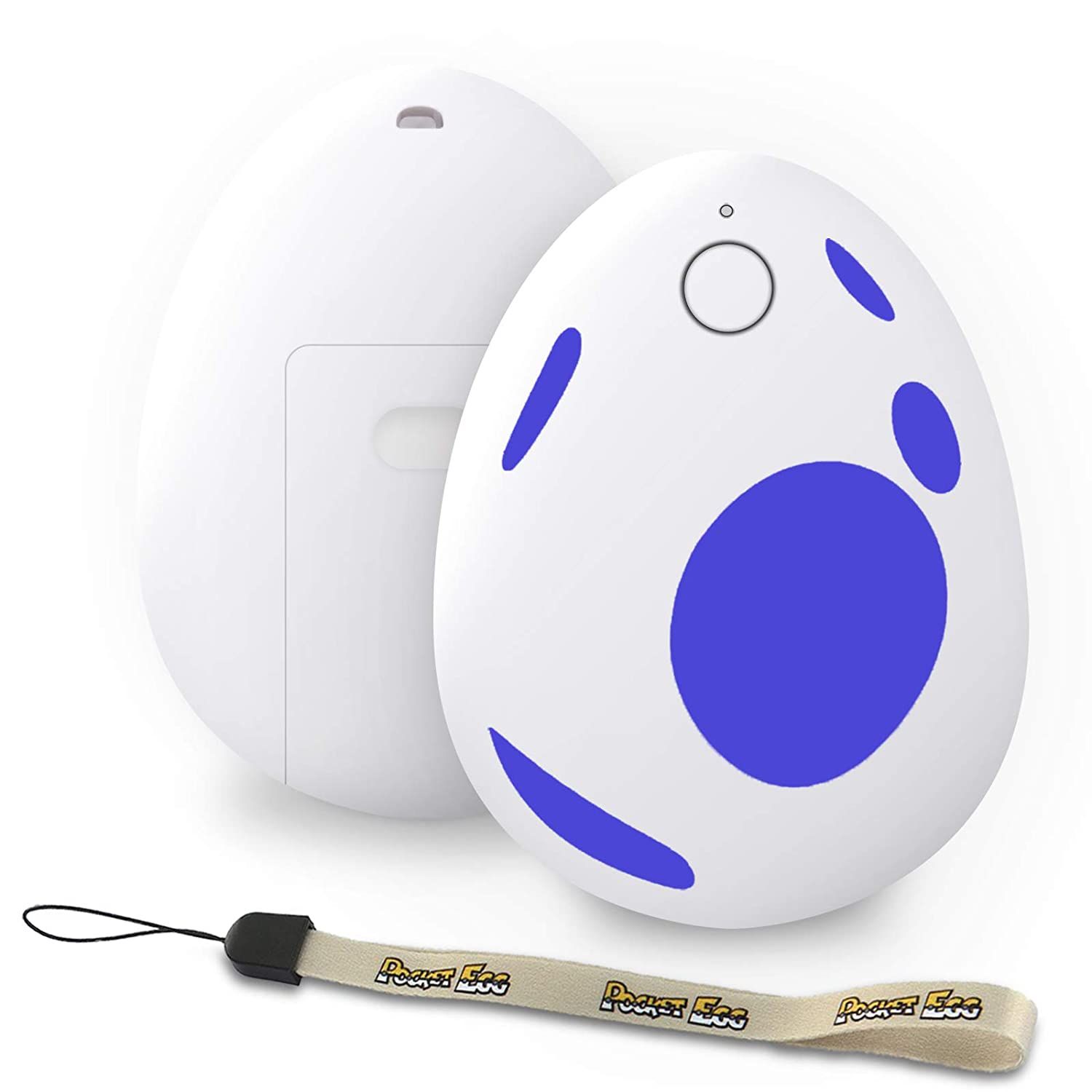 Pocket Egg Auto Catch for Go
A portable charger is a fantastic idea if you are a Pokémon Go player, the last thing you want to happen when you are on the cusp of catching a rare Pokémon is your phone battery dying. This portable charger from Pxwaxpy is a 30,800mAh power bank that has the capacity of recharging most smartphones six-eight times from one fully charged battery. If you have any other Pokémon Go rechargeable accessories, you could also plug them into this power bank if you are short on battery. This particular power bank has an LCD digital screen that looks very sleek and will tell you how much charge you have left to go, no need to guess if you have to charge the power bank. There are three different outputs in total, two QC4.0 Outputs, and one PD Output, and it will allow you to charge three different devices at any given time. So if you capture Pokémon in a squad, you will have your friends covered in case of a battery disaster. Although this pick is a bit left field, we can guarantee you that it will come in handy when out in the field catching Pokémon.
Key Features
LED screen states battery power and consumption
Charge 3 devices at once
Universally compatible with all products
Can charge most phones 6-8 times with a full battery
Specifications
Brand: Pxwaxpy
Battery Capacity: 30,800mAh
Ports: 2 QC4.0 Output and 1 PD Output
Dimensions: 5.91 x 2.95 x 0.59 inches
Pros
A relatively small device considering the battery power
Will always have your back when out playing Pokémon Go
The LED will keep you aware of exactly where you're at
Cons
It might be too heavy for some
Buy This Product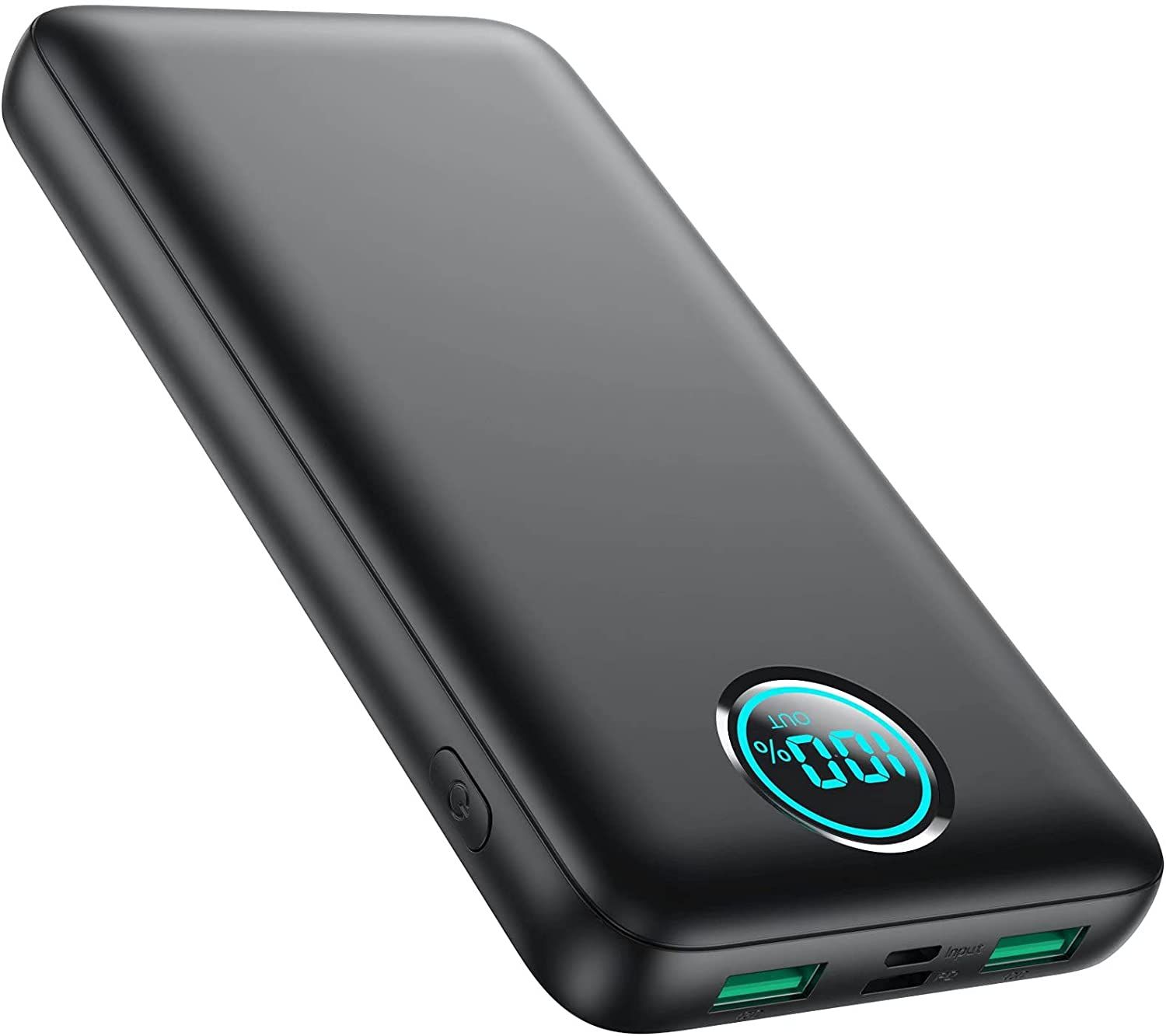 Portable Charger Power Bank.
A great thing about Pokémon Go is that it encourages activity, getting out and about and enjoying the fresh air is rewarded thanks to its adventure sync feature. Pokémon Go rewards its players based on the distance traveled and players can redeem multiple different rewards after seven days based on the distance they have walked. The minimum distance you have to travel within seven days is 5km and the highest reward is 100 km.
However, if traveling this distance within a week is out of your reach an accessory like the Orzero Step Counter will allow you to redeem the Pokémon rewards you are missing out on. This device is basically a pendulum in which your phone sits and swings, racking up a whopping 7200 steps per hour. This has a dual benefit, as well as winning rewards, your Pokémon eggs will hatch a lot faster without actually having to go on the app. Since each egg has a specific kilometer you need to travel for it to hatch, the Orzero Step counter will help hatch your eggs even faster. The Step Counter is a generic size, and it will fit most modern smartphones with ease and is compatible with both IOS and Android devices. However, since different smartphones and operating systems have different settings and sensor locations, you may have to place your phone upside down in the holder for it to work.
Key Features
Can hold two devices at once
Automatic step counting up to 7,200 per hour
Silent swing for minimum noise
Compatible with phones up to 7.2-inches long
Specifications
Material: Plastic
Compatible Devices: IOS, Android
Color(s): Black
Brand: Orzero
Pros
Will help Pokémon eggs hatch and claim rewards
Compatible with most smartphones
The swing is discrete and really quiet
Cons
A little tricky to get working at 100 percent capacity
Buy This Product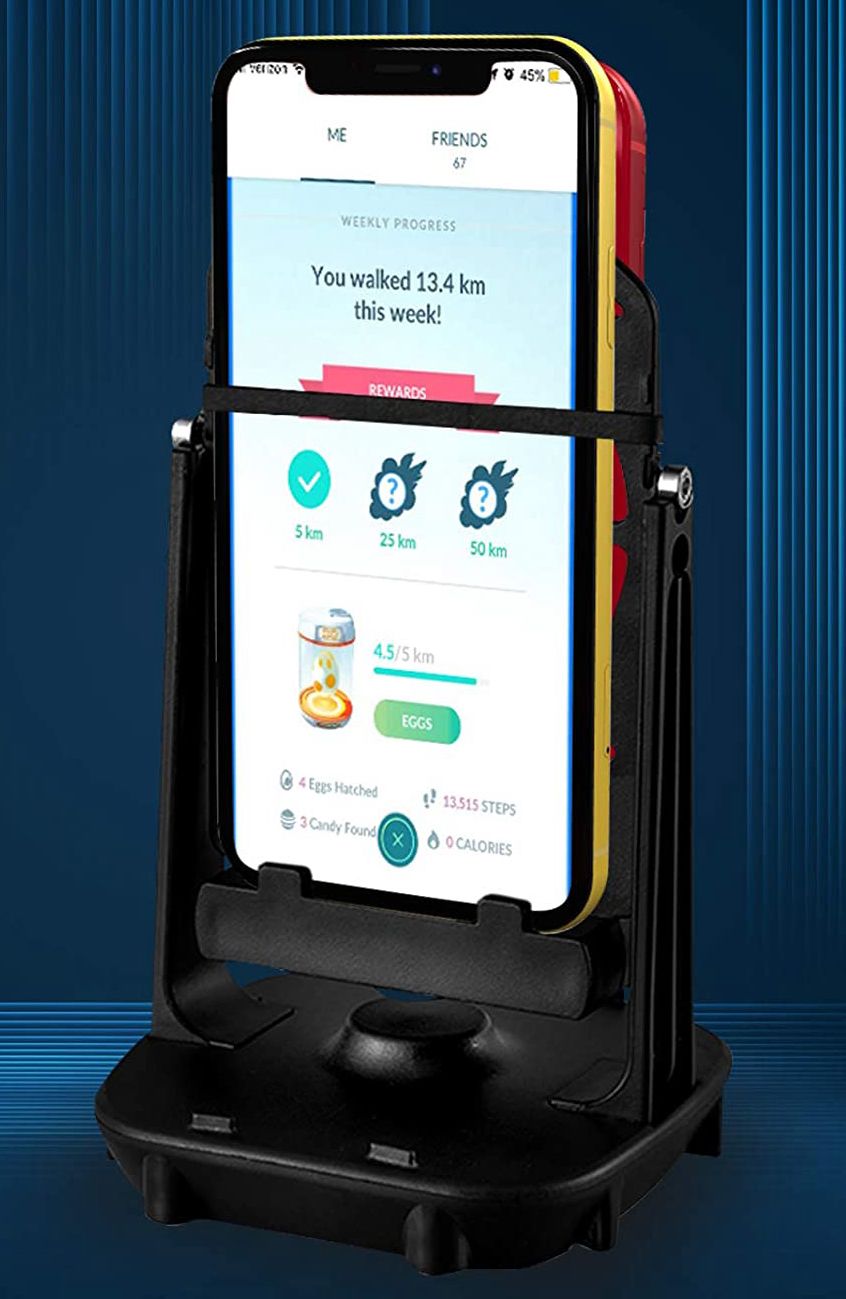 Orzero Steps Counter Compatible with Pokemon Go
The Go-tcha Evlove 2 is the evolution from its predecessor. There have been numerous improvements from the first Go-tcha Evolve, especially the battery life. It will last you around 4 hours from a 1.5-hour charge which is a big improvement on the original. With a large, colorful LED screen, this wristwatch will do multiple different things that will make your Pokémon catching easier and more convenient.
The watch is designed to automatically catch any Pokémon you come across, when out and about, and most impressively, when you are driving. This is a big benefit and expands your scope massively. The wristwatch will also automatically spin Pokéstops for you too, no need to get your phone out when you are on the move. When you are in the vicinity of a Pokéstop or a catchable Pokémon, the watch will both vibrate and display a little animation on the screen. A big benefit of the Go-tcha Evolve 2 compared with the officially licensed Nintendo products is that this will automatically throw a Pokéball, whereas the Nintendo Pokémon Go Plus requires you to physically press a button to throw a ball. So if you are susceptible to missing little notifications on your devices, this will be a very useful function for you.
Key Features
Around a 4-hour battery life
Colourful LED Screen
Rechargeable internal battery
Auto-catch capabilities
Specifications
Type: Wristband Device
Color Options: Black, Blue, Green
What's Included: Wristband, Device with screen
Brand: Datel
Pros
Capturing Pokémon automatically is a brilliant feature
A rechargeable battery means you don't have to buy an external battery
Works in the background without having to pay attention to it
Cons
It is actually quite uncomfortable
Buy This Product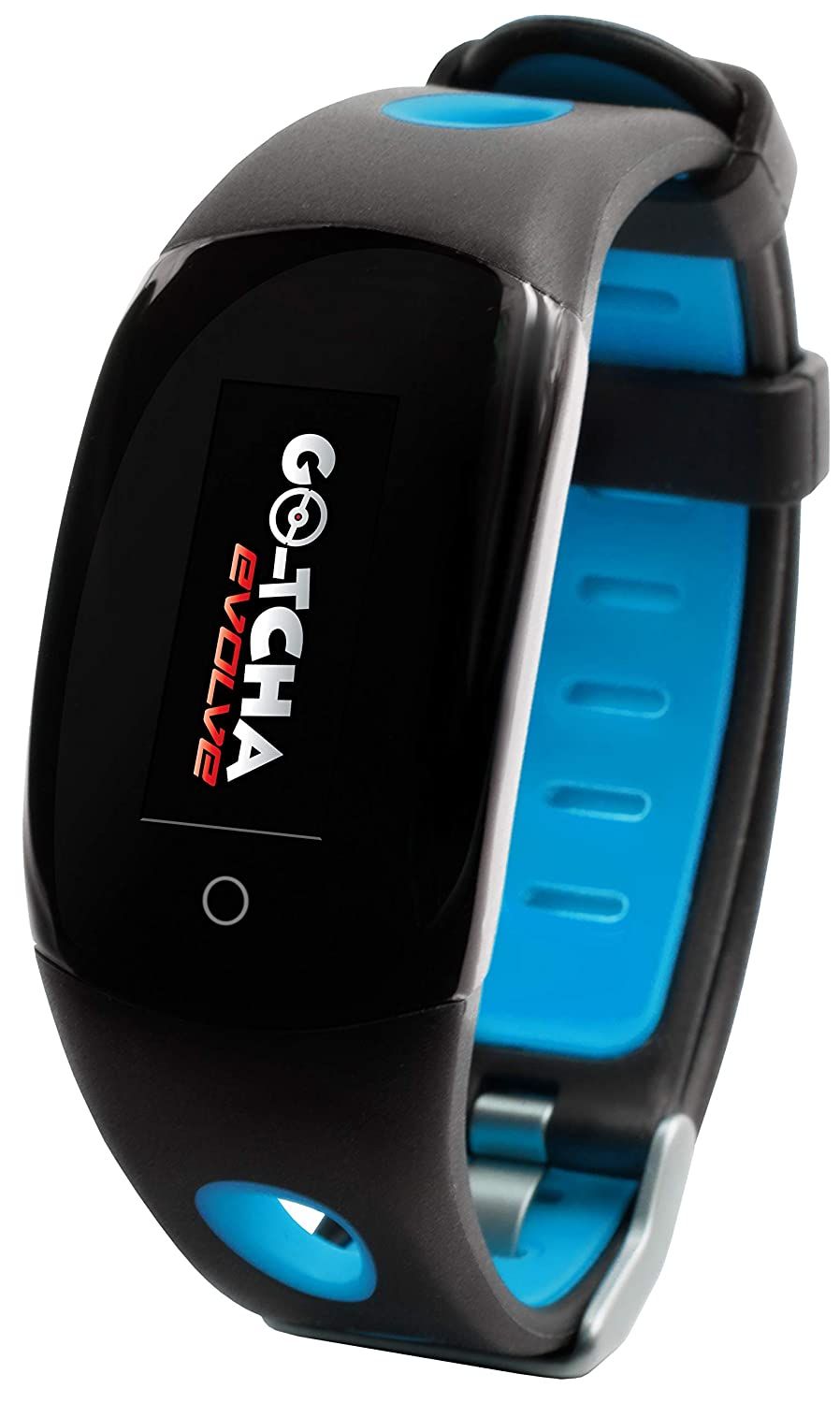 Go-tcha Evolve (Go-tcha 2)
Like other automatic catchers on our list, the Datel Pokémon Go-tcha Ranger is a great accessory for taking over the monotonous tasks that you sometimes have to complete. The Go-tcha Ranger comes with an LED touchscreen you can use when a notification appears. If you aren't interested in controlling what you capture through its touchscreen, you can turn on automatic catch, and it will automatically cast Pokéballs every time you come in the vicinity of one. You can either have the Ranger physically notify you when you are near Pokémon as there is a vibration notification. If you prefer it to be a bit more discrete then you can place it in silent mode, and it will notify you through the LED light.
There are a few additional components on this device that make it stand out including; a LED Flashlight, USB charge cord, Smartphone Charge Cord, Battery Power Pack and Compass. Some of these additional features are more useful than others, a compass was maybe a step too far, but the additional battery power pack will allow you to automatically capture Pokémon for longer. We have been impressed with the speed at that the Ranger captures Pokémon and spins Pokéstops, it sometimes does, so before they visually spawn. It is a robust device that will take a few knocks and tumbles, if you are a little clumsy then this may be the accessory for you.
Key Features
Auto-catch availability
Touch OLED Screen
Vibration Alerts you can turn on/off
Included portable charger
Specifications
Type: Automatic Catcher
Color Options: Black
What's Included: All in one catcher device
Brand: Datel
Pros
There are a lot of added extras like a compass and smartphone charge cord
You can clip it onto your belt whilst moving around
An internal battery you can recharge once done
Cons
The connection can drop quite easily
Buy This Product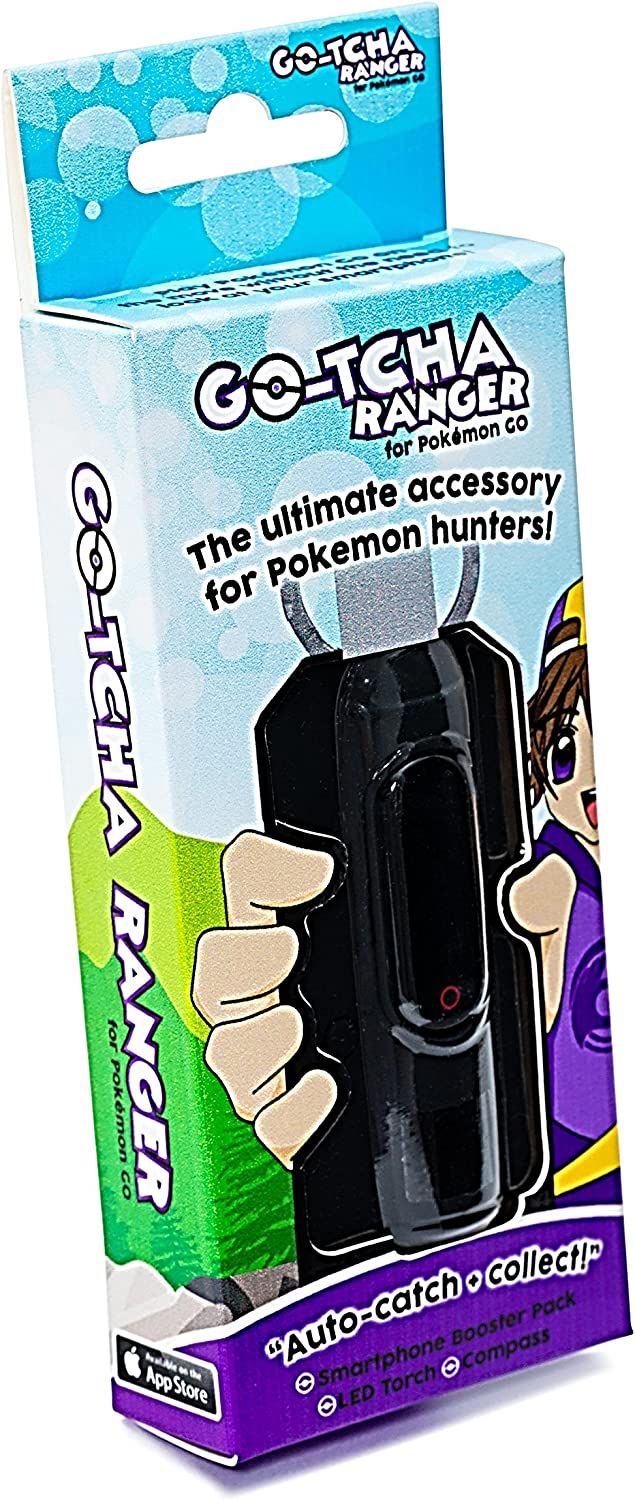 Datel Pokemon Go-Tcha Ranger
The Ermorgen Step Counter is a sleek machine that you won't notice when it is on. It has been designed with discretion in mind and the stainless steel bearings are really quiet when in operation. This is a step counter designed to earn you as many Pokémon Go rewards as possible, even when you can't make it outside. The step counter works by swinging your phone from left to right, which can add up to 7,000 steps per hour. Since you need to travel a certain amount of kilometers to hatch Pokémon eggs, the Ermorgen will increase the number of egg hatches you achieve exponentially. It is compatible with smartphones under 3.4 inches wide and has a smooth plastic design which has been chosen to minimize phone scratching. It is a really easy device to use, mounting your phone is achievable with one hand, and it's very efficient. All you have to do is mount your phone, plug it in, and you're ready to go. The Ermorgen Step Counter will correct itself if it was to over-swing, meaning you are never going to be in danger of toppling over. This is a nice feature because the maximum swing angle will result in the maximum step count, so not having to worry about the device toppling over is a big benefit.
Key Features
Earn up to 7,000 steps per hour
Silent swing which is designed for discretion
Works from a low power supply
Applicable with phones 3.4-inches wide and lower
Specifications
Material: Plastic
Compatible Devices: All devices within 3.4-inches wide
Color(s): Black
Brand: Ermorgen
Pros
A really easy set-up, plug in and play
It will self-correct if your device is going to over-swing
Really good value for the money
Cons
The plastic used is a little brittle
Buy This Product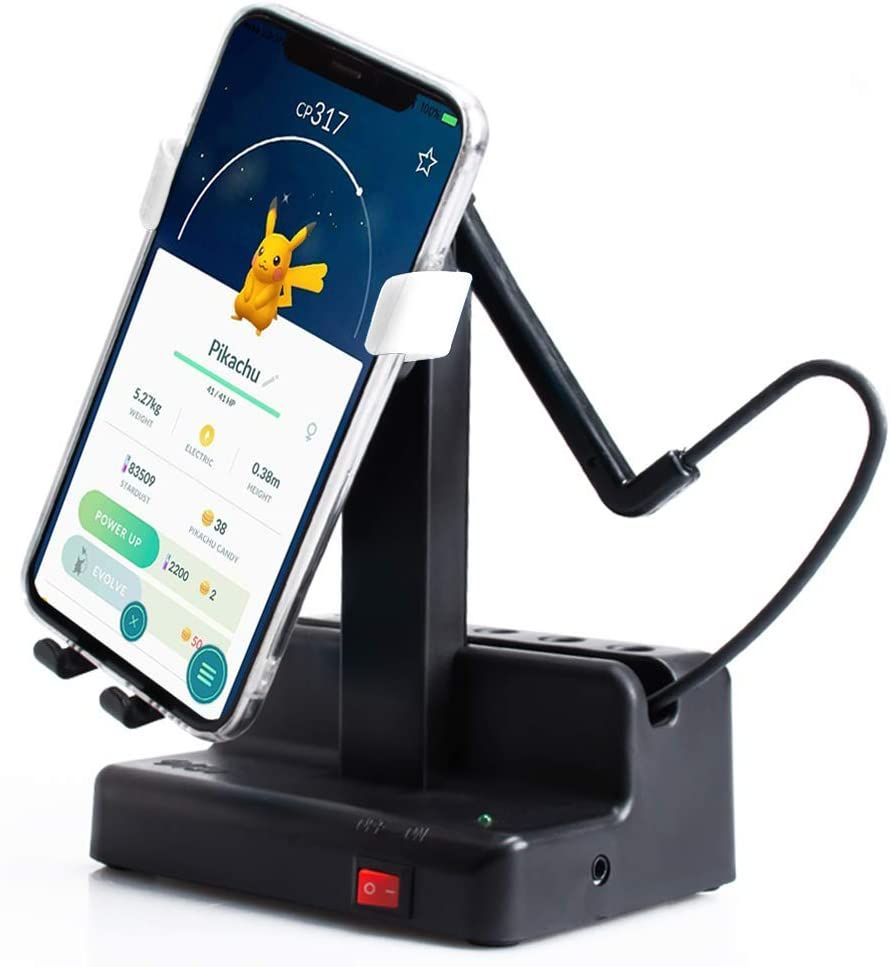 Ermorgen Automatically Steps Counter Compatible for Pokemon Go
The Megacom DuoMon Autocatcher is a compact, lightweight accessory that you won't even notice doing its job. This auto-catcher is small enough to fit in your pocket or attach to your keychain to allow for discreet, automatic Pokémon capturing. The device allows up to 2 different devices to connect and will capture, level up and spin Pokéstops across 2 different accounts. A unique feature that this device has is the audible voice prompts, it will notify you if you are near a Pokémon through a voice prompt from the device itself. This is great if you are unlikely to notice a flashing LED. If you prefer a little more discretion, you can turn off the voice prompts and use it in silent mode.
There is also an auto-connection feature, if one of your phones disconnects from the device it will try to automatically reconnect. If you are using two phones at once, this is a lifesaver as the app has a tendency to disconnect quite regularly. The Megacom DuoMon is powered by AAA batteries and there is no option to charge the batteries through the device, so make sure you have a spare set on you if you are planning a long Pokémon Go trip. Saying that the batteries seem to last a generous amount of time, so you won't go through too many batteries.
Key Features
Voice assistance notifications
Really lightweight device (0.9oz)
65ft wireless connection
Compatible with 2 trainer accounts
Specifications
Type: Autocatcher device
Color Options: White and Blue
What's Included: Autocatcher, strap, carabiner
Brand: Megacom
Pros
An ultra-long wireless connection
The auto-connect button is a real timesaver
2x AAA battery powered with 600 hours of life
Cons
Perhaps a bit delicate for the heavy-handed
Buy This Product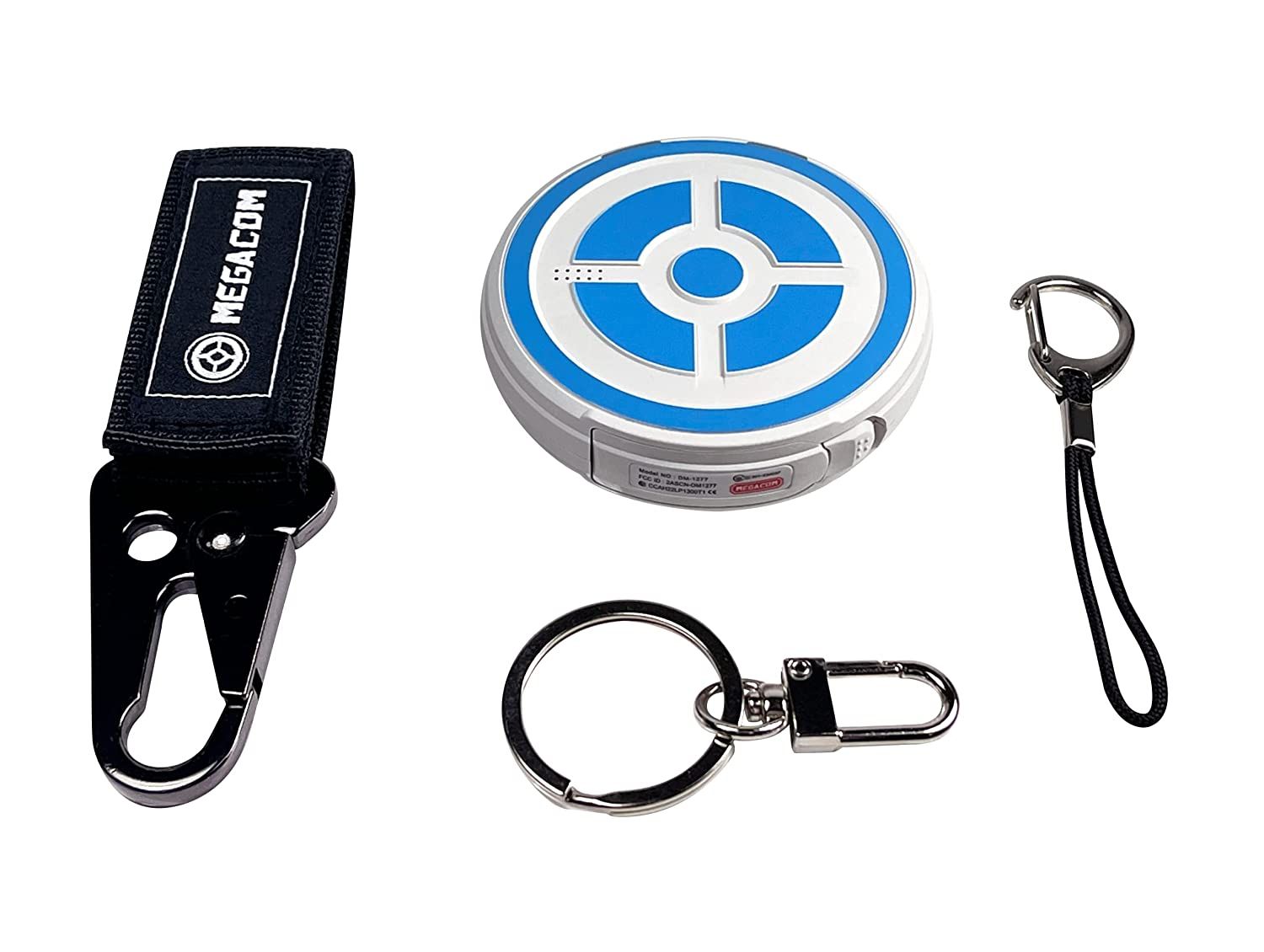 Megacom DuoMon 1P/2P Auto Catcher
Pokémon Go has been a welcomed revelation for those who are fans of the franchise. The most physically interactive Pokémon game that has been released has encouraged people to get together, go outside, and be immersed in capturing Pokémon in their own local environment.
Although some play the game as a casual pastime, there are others who are very serious about it and want to be the best in the world. Regardless of how you approach the game, a Pokémon Go accessory can make your time playing the game a lot more enjoyable. Whether you can't get out of the house to rack up enough kilometers to gain a reward and hatch your Pokémon eggs or are conscious about being on your phone all the time when you are out and about and don't want to miss out on catching rare Pokémon, there is an accessory out there for you. An automatic step counter will assist in claiming distance rewards and an automatic capture device will make sure you never miss out on surrounding Pokémon.
Whether you are just getting into Pokémon Go, or are in the top 10 in the world, there will be a suitable accessory on our list. Happy catching!
#Pokémon #Accessories #Updated