Originally premiering at the Toronto International Film Festival in 2022, Alice, Darling will be available exclusively at AMC Theaters beginning January 20. The thriller follows Anna Kendrick's character, Alice, who is trapped in a relationship with her psychologically abusive boyfriend. While vacationing with her two best friends, Alice begins to question the hold he has on her life and ventures on an internal journey of self-discovery. However, even with her friends at her side, Alice struggles to escape the man she has been conditioned to depend on.
Kendrick is most notably known for starring in the Pitch Perfect films. Additionally, Kendrick has worked on several other projects such as The Twilight Saga, A Simple Favor, and Into the Woods. Directed by Mary Nighy and written by Alanna Francis, the main cast of Alice, Darling also includes Kaniehtiio Horn, Charlie Carrick, and Wunmi Mosaku.
RELATED: Anna Kendrick's 10 Best Movies, According To Letterboxd
Kendrick chats exclusively with Screen Rant about the prep work required for her solo scenes and discusses the significance of female friendship in Alice, Darling.
Anna Kendrick Talks Alice, Darling

Screen Rant: As an actor, what did you find the most compelling about Alice, Darling?
Anna Kendrick: I really liked how restrained and thoughtful the screenplay was. I think that there is something really exciting about a script that's not just covered in dialogue. Maybe when I was like, 20, I would have loved that because it's like, "Oh, my line," but there's something really beautiful about a screenwriter who trusts that you don't have to say everything. You don't have to spell everything out. There was something about the atmosphere that Alanna created in the screenplay that felt like it was actually inviting you to strip away even more. It was like, "Here are the bones of the world and the atmosphere," but the dialogue felt really secondary.

It felt like she was trusting that it was enough to put these images on paper and these characters, and that you would be willing to go along with their story and invest in them and feel for them. There weren't these really explicit prescriptive scenes of dialogue. There was something really exciting to me about doing something more restrained and trusting that not everybody, every day, in every scene was going to have to be tap-dancing to keep the scene alive. To trust that you can sit in quiet moments is a scary thing to do when you're a performer. That was a challenging and a vulnerable thing that I was really excited about.
Is it difficult to convey these strong emotions in scenes where you don't have anyone to play off?
Anna Kendrick: Mary, the director, and Mike, the DP who also operated the camera—early on, we knew that whenever something was getting set up for the next scene, if we had the time, I would change my shirt, and we would go off on someplace on the property and steal a little moment. One of the first things we did was this moment when Alice is laying in a hammock, and Mary was like, "Oh, maybe you're reading a book." And I was like, "Oh, I could absolutely have the book. But I wouldn't be able to read."

There's just the kind of running loop and being trapped in that means that everything else gets pushed out. You can't focus on anything long enough to read more than a paragraph. Knowing the experience that intimately meant that we could make those decisions really quickly. Trusting that an audience is going to be interested in what [Alice] is thinking when I'm staring into space for so many of these little moments was a leap of faith.
Something that I really enjoyed about the film was the friendship between these women. Can you share some insight into building that relationship and bringing it to life?
Anna Kendrick: I love the friendships in this movie so much. I forgot about this until recently, but everybody on set ended up trying to figure out like, "Am I the Tess or the Sophie or Alice?" It was like a way less fun version of Sex in the City. Like, "Are you the Samantha?" kind of thing. I love that they want to help so much and neither of them really can. They both have such opposite approaches to trying to help, and ultimately they end up being willing to just tolerate the fact that Alice is in such a bad place, which is the most valuable thing for her—just to have them around and not be forcing an outcome. It's hard because Tess, who's the more vocal one, is sort of saying everything that the audience is thinking, but the second that it's out of her mouth, you're like, "That's not going to help."

That playing out on screen is really fascinating and frustrating for a viewer because you're like, "Just tell her this." And then it's like, "Well, of course, she's not going to listen. She can't hear it. She's not in a place to hear it yet." I think that it's this really great testament to friendship and the way that sometimes the best thing that you can do is the hardest thing to do, which is just to keep showing up, even when that person just won't do the thing that seems so obvious to you and still being around. I know that that was incredibly valuable to me. If people push too hard, you just feel like you have fewer and fewer resources, even though you might be the one pushing people away. It's so valuable when friends are willing to stick with you through those bad patches in your life.
About Alice, Darling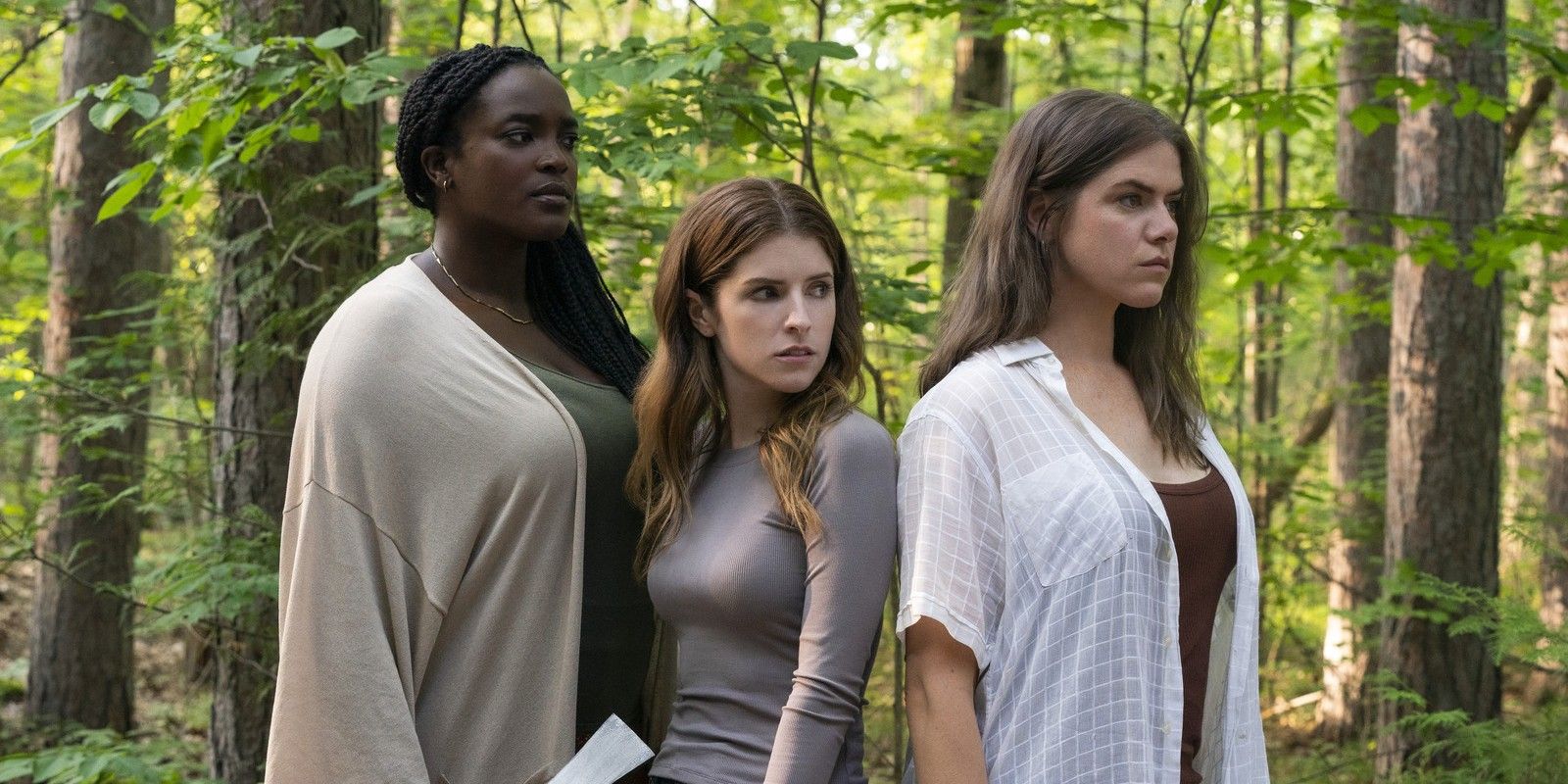 In the taut thriller ALICE, DARLING, Oscar® nominee Anna Kendrick (Best Supporting Actress, Up in the Air, 2009) stars as a woman pushed to the breaking point by her psychologically abusive boyfriend, Simon. While on vacation with two close girlfriends, Alice rediscovers the essence of herself and gains some much-needed perspective. Slowly, she starts to fray the cords of codependency that bind her. But Simon's vengeance is as inevitable as it is shattering – and, once unleashed, it tests Alice's strength, her courage, and the bonds of her deep-rooted friendships.
NEXT: Anna Kendrick To Direct & Star In True Crime Thriller The Dating Game
Alice, Darling is available in AMC Theaters nationwide beginning Friday, January 20.
#Anna #Kendrick #Interview #Alice #Darling